EN Part 1: A Modern Japanese Izakaya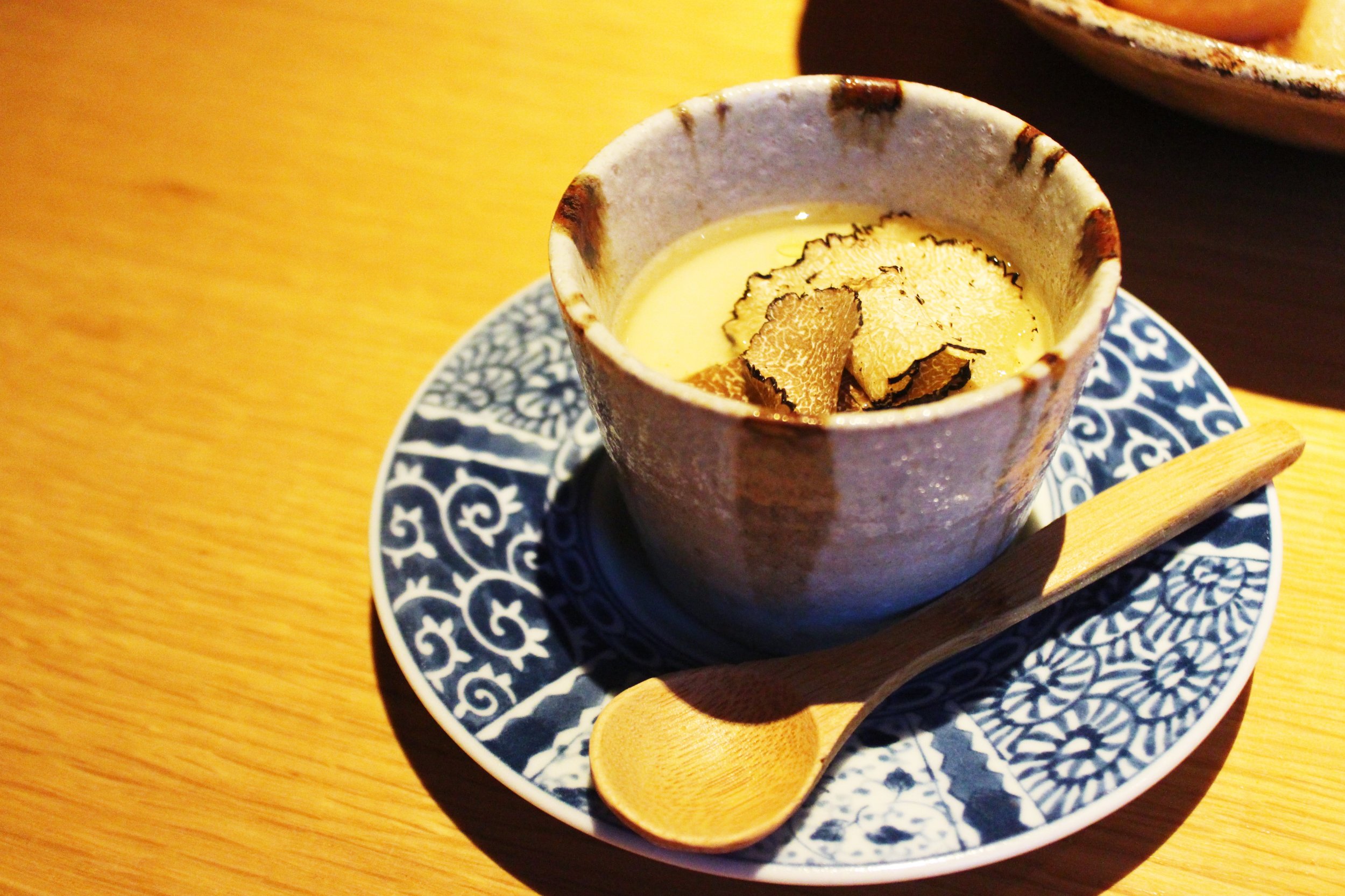 Hellooo, all you studs. This post is about my visit to EN Japanese Brasserie in West Village. Since there are a ton of delicious pictures and a number of significant things to talk about, I had to split this review into two parts. Some dishes were absolutely mind-blowing but some of them fell short. We ordered a number of dishes so I'll only touch on the ones that really stood out. EN is a super modern, izakaya restaurant. The ceilings are crazy tall (like 4 or 5 stacked LeBron James) and the restaurant is well-designed. There's a bar to the right of the entrance (next to the well-concealed bathroom).
EN has a huge selection of sake with a respectable number of them available by carafe (decanter) or glass. They also serve some of my favorite drinks ever, including Yamazaki (my baby), Hitachino (my lover), and the great Dassai 23 (my cure). The bar is called the Shochu Bar for a reason. Shochu is a spirit made with sweet potato, soba, barley, sugarcane, or sesame. Definitely worth a try! Overall, I recommend the flight of Junmai Daiginjo if you like strong, balanced sake. It's worth the price, I swear.
Anyways, this post will be continued in the next post, En Part 2. Thanks for reading!
OKOK. Let's talk about this beautiful thing above. It's EN's warm FRESHLY-MADE tofu with wari-joyu, a sauce made from fish broth and soy sauce. This tofu makes me feel like I've never had tofu before. When I eat this tofu, I want to name my firstborn "Tofu". This tofu makes me feel like I'm in Japan or some other godlike tofu-making country. I would go back just for a bucket of this tofu. It was so silky and creamy. And, you get to taste that rich, soy bean flavor only found in fresh tofu. To satisfy demand, EN makes about 70 batches of tofu per week. It's one of their most popular dishes.
Next... Another glorious dish. This is their Black Truffle Chawanmushi with Shaved Black Truffles. I can barely get through this post without fainting. Chawanmushi is basically a steamed egg custard in a tea cup/bowl. It's usually flavored with dashi (fish broth), soy sauce, or mirin (light rice wine). This dish was life changing. It's probably the best chawanmushi I've ever had. It was soft, tasty, and it smelled like world peace. The shaved truffles were amazing. The truffles were nice, grainy, and flavorful. Every bite was like a trip to heaven. I might be exaggerating but it was a great dish.
Next, we ordered the Kurobota Kakuni. It's braised pork belly in a sansho (Japanese spice) miso with a hard boiled egg, spinach (in the shape of a cube), and daikon radish. Fun Fact: Kurobota is Berkshire pork. The pork in this dish actually melts in your mouth. I don't think I even bothered to chew. It was tangy, meaty, and succulent. There was a good amount of fat that made the pork taste even more juicy and flavorful than it already was. Look at that picture above. It's heartwarming... like pictures of me.
Steph ordered the A5 Grade Miyazaki Wagyu Beef. Yup. My girlfriend knows how to order good food.