Covina: A Tale of Two Cuisines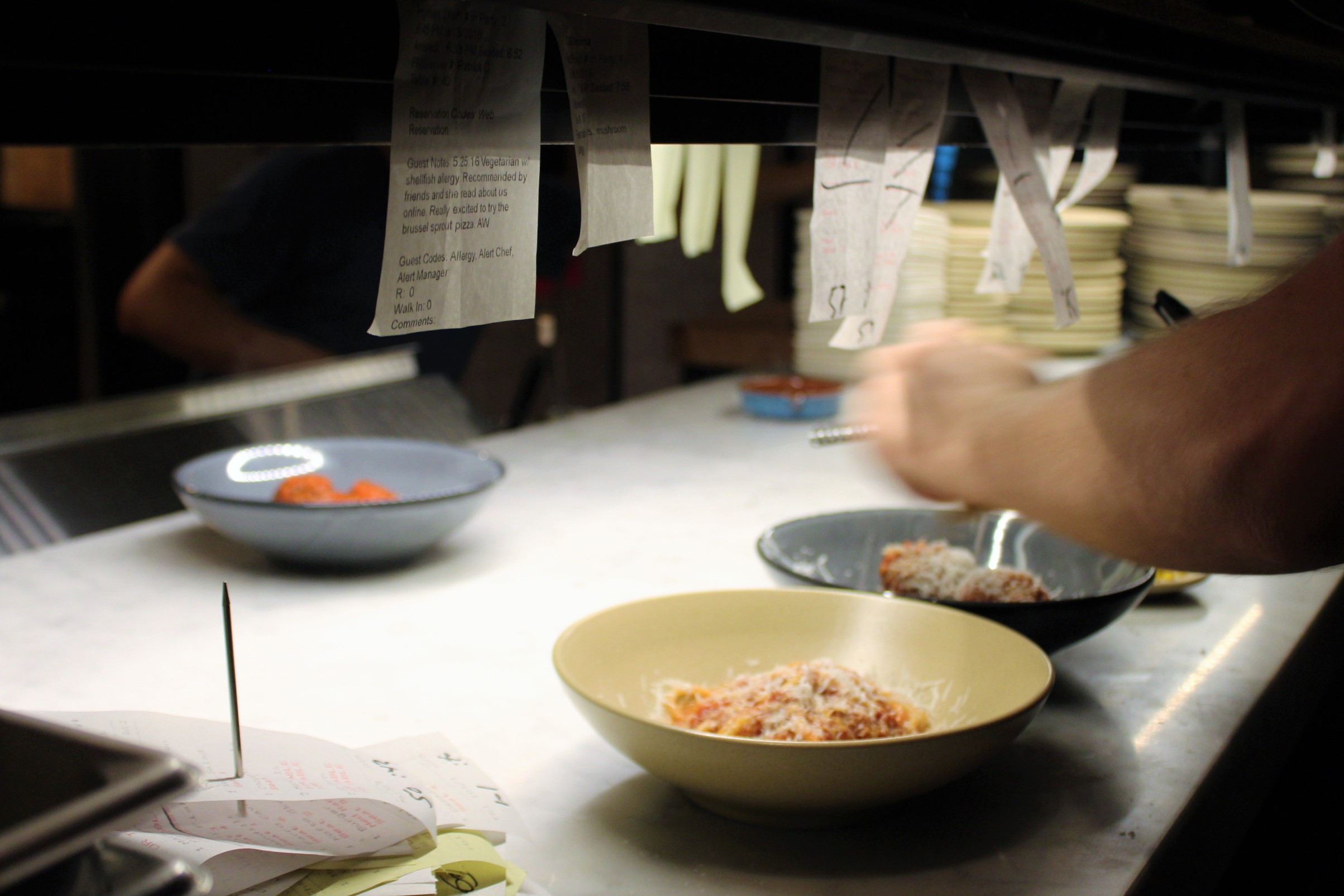 Hi everyone! I'm super pumped to talk about this restaurant. It's called Covina, a spacious New American-Mediterranean oasis serving homemade pizza and wood-grilled meat/seafood in Flatiron. I was really pleased with our visit. Each detail, including the casually sophisticated decor, the respectably sized U-shaped bar, and the lively open concept kitchen, added to our delightful experience.
We also felt incredibly welcome thanks to our hospitable waitress, who was clearly both knowledgeable and passionate about the food (Thanks, Kim!). I'm also very excited that Covina is owned by James Beard Award-winning Chefs (Tim and Nancy Cushman), who also manage O Ya, a Japanese restaurant with an omakase that I've been wanting to try. And, now, after trying Covina, I want to try O Ya even more!
Overall, I am in love with this restaurant. It's clear to me that there is something special going on here. And, I can't wait to go back or try out their other restaurants.
Address: 127 E 27th St., New York, NY 10016
Recommended:
Mandilli: Folded Pasta Sheet, Basil Almond Pesto, Housemade Ricotta, San Marzano Sugo

Hungarian Potato Fry Bread: Smoked Salmon, Kefir Ranch, Crispy Caper, Fresh Herbs

Whole Daily Fish: Grecian Dorade, Chana Dal Indian Yellow Lentil, Ajwain, Charred Garlic Yogurt Pico De Gallo
Anyways, for this review, I want to talk about three things - basically every dish we ordered because they were so good. First, we started with the Hungarian Potato Fry Bread. I've never heard of this thing before but I'm glad we tried it. The authentic name for Hungarian Potato Fry Bread is Langos. And, it's actually a popular snack at Hungarian street and market fairs. Traditionally, the Langos is rubbed with garlic and sprinkled with salt. However, there are both sweet and savory variations that include the use of sugar, cheese, or sour cream. Covina's Hungarian Potato Fry Bread was topped with Smoked Salmon, Kefir Ranch, Crispy Capers, Onions, and Dill.
It was phenomenal. No lie, I wish that my zodiac sign were a Hungarian Potato Fry Bread so I can channel its awesomeness into my daily life. If I had to describe the taste and texture, it tastes a lot like smoked salmon and savory churros. The bread itself was light, not too oily, and deceptively dense. 5 out of 4 times, I would order this again.
Next, we got the Mandilli, yet another food item that I've never heard of. How exciting! This makes me feel like the food-adventure version of Indiana Jones. Mandilli (di Seta al Pesto) translates to "Silk Handkerchiefs with Pesto", which happens to be a perfect description of the dish. When I first saw it, I could not tell how many pieces of pasta were involved. Upon further inspection, there was really just one or two big pieces of large, thin sheets of pasta. Strangely, this dish has an embedded sense of timeless elegance.
Typically, this dish is almost all green in color due to the Basil Almond Pesto. However, Covina added a pool of San Marzano Tomato Sauce, which, although atypical, was definitely appreciated. The homemade ricotta was beautifully shredded and melted quickly over our pasta. Visually, it looked like a redesign of the Italian flag. Very badass.
Lastly, we got the Whole Daily Fish. On the day of our visit, it was a Grecian Dorade. Say it. Grecian Dorade. While writing this post, I've said it almost a hundred times already. It makes me feel classy and cultured. The fish was wood-grilled, which imparted a strong, smokey taste to the charred fish. Dorade is a small white fish with rich flavor and a tender texture. It's very similar to a red snapper or sea bass. It was topped with some Chana Dal Indian Yellow Lentils, Ajwain, and Charred Garlic Yogurt Pico De Gallo.
FUN FACT: Lentils are incredibly healthy for you. They're high in both protein and fiber, which helps lower cholesterol and improves digestive health. Ajwain is an herb that is frequently used in Indian cooking. It tastes most like thyme but it also has a robust pungent flavor. My only complaint is that the fish was a bit dry but the Pico De Gallo masked the dryness well. Pico De Gallo goes well with anything. It's absolutely genius. Typically, it's made with chopped tomato, onion, coriander, and peppers. Covina's had an additional liquefied, garlicky yogurt sauce. I loved it!