Master Spicy Hotpot 大師兄麻辣鍋物: Hotpot into that Good Night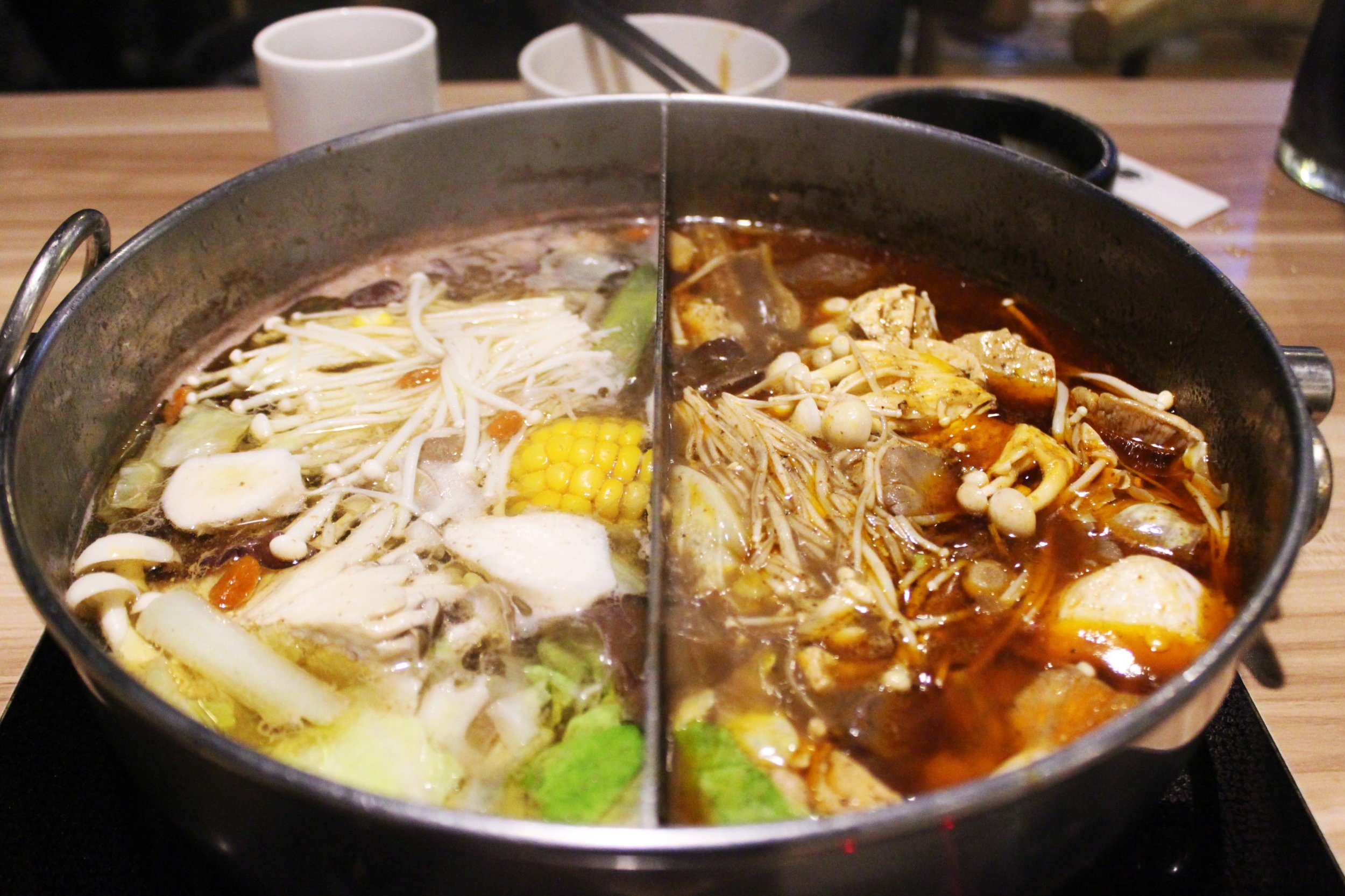 Hi Everyone! Hope you are all doing terrific on this terrific Tuesday. I'm pretty excited to talk about this next restaurant during our visit to Taiwan in October/November 2016. Sorry for the delay! I just have 2 more restaurants from this trip and I'll get back to writing NYC and Japan reviews.
Today, we are talking about The Master Spicy Hotpot in the Zhongshan District of Taiwan. Its got a very quaint yet modern vibe with an extra hospitable and accommodating staff. My parents and I are clearly tourists and Steph was the only Taiwanese person at our table but the staff treated us like VIPs! With regard to the food, as you will see shortly, some of the dishes were fairly solid but some were a little underwhelming.
Overall, the meal was pretty good. I enjoyed the Taiwanese Fried Dough but it did not taste that fresh. The vegetable dish was a bit underwhelming. It seemed like they threw some cabbage, tomato slices, baby corn, and 3 pieces of bok choy into a bowl and that was it. This needs to be improved!
Address: 復興南路一段18號, Zhongshan District, 台北市 104, Taiwan
Recommended:
美國牛小排 US Prime Rib

Taiwanese Fried Dough 油條

Pork 豬肉

Noodles! 大師兄銷魂麵

Mushroom Combo 綜合菇

Handmade Cuttlefish Starch 手滑花枝漿

Half n Half Hotpot 紅白鍋

Beef 牛肉
To start, we got the "Must Order Master Spicy Noodle" (see above). We have no idea what was in it or what it was but it was actually quite good. The noodles were just warm but decently firm and slightly sticky. It tasted very basic but in a good way. The flavor was more savory rather than spicy. And, it was a huge serving of noodles! We also got some plum juice (not pictured). The plum juice was very concentrated but I highly recommend it as it goes well with the hotpot. It's invigorating.
Next, let's start talking about the hotpot. The Taiwanese LOVE hotpot. It's a real thing. Somehow, as a nation, they have collectively agreed to live in praise of hotpot. I don't blame them! Hotpot is a blessing. (Also, I hope you all understood that Dylan Thomas reference in the title. Otherwise, I will feel lame). It's also a fun eating-activity because you get to cook everything by yourself and tailor your meal exactly the way you want it. As shown above, you'll see our boiling hotpot bowl filled with a myriad of little bite-sized treats. We got the hotpot split into regular and spicy halves, which is convenient because Steph is fireproof and can eat fire while I can look at a chili pepper and start sweating. It's like I'm dating a superhero. Anyway, the broth was above average but felt cleaner (e.g. less oil and gunk) than other hotpot places.
We ordered three different types of meat and a fishy dish. All the meat was very good quality. It's certainly better than what I can find at most NYC places. The regular beef was very low in fat and it did not sacrifice that much of the flavor. Honestly, I like my hotpot beef more tender and less fatty. Then, I get most of the more distinct and exciting flavors from my secret hotpot sauce (soy sauce, sugar, chili oil, chili peppers, chives, shacha, sesame oil).
While most places allow you to customize your own hotpot sauce, The Master Spicy Hotpot unfortunately does not. But, that's okay. We also ordered some pork (as shown on the first picture of this post). It was decently good! This one was much better than hotpot pork dishes I've had at other places. Usually, it's way too fatty but The Master Spicy Hotpot had very good quality, tender, and juicy pork. I was happy with this one. I'd give it a 7.5/10.
We also got the US Prime Rib, which was much better than their regular beef dish. As you can see in the picture above, the marbling is much nicer and the fat content is reasonable. The US Prime Rib did not have those large, irritating strips of fat that make you wonder if you actually ordered a plate of fat with a lining of beef. Moreover, the meat was pretty good quality. The fat was more tasty and juicy in comparison to other hotpot beef dishes I've had. This is definitely a must-order here!
Finally, the Handmade Cuttlefish Starch was legit. It comes out on a sliver of bamboo similar to a paste. The friendly staff helped us in portioning the starch into little bite-sized cuttlefish balls. Cuttlefish tastes like a hybrid between octopus and squid, kind of like a richer version of calamari. These little cuttlefish balls were then dropped into the hotpot. After a few minutes, I dove in to indulge. These were softer and fluffier than your regular frozen fish balls. I enjoyed this one a lot!