Ginza Kojyu: Embrace the Grace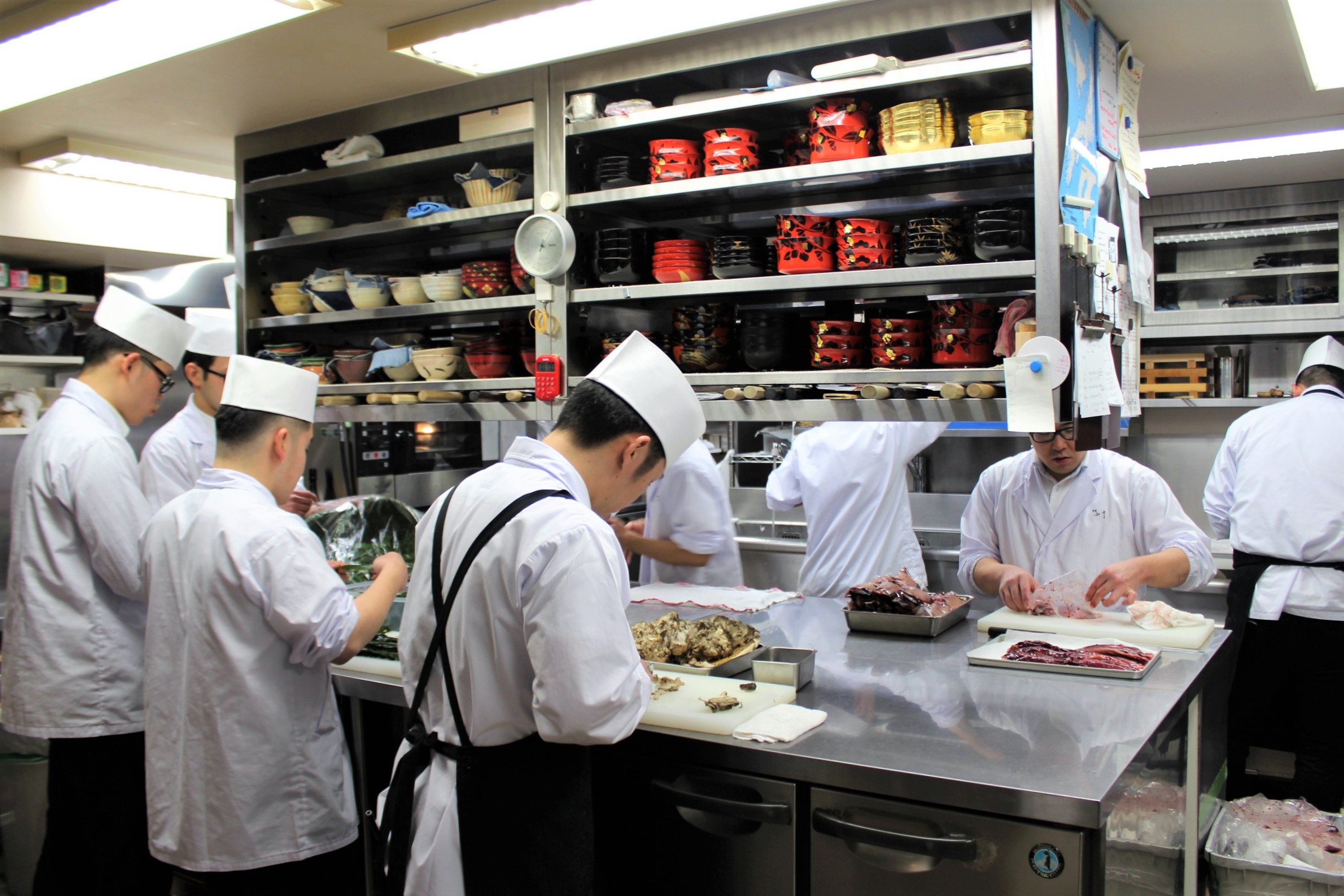 Hi Everyone! Welcome back! Today, I'm excited to talk about Ginza Kojyu. This one is going to be an intense review.... but aren't they all a bit intense at this point? The restaurant is called Ginza Kojyu and it's located in Tokyo. I came here with Steph and my parents for lunch one day. Ginza Kojyu was once a three-star Michelin restaurant. They held this prestigious title for several years until 2014. Since then, they have been a two-star Michelin restaurant. Regardless of that, this was one of my favorite meals in Japan.
First of all, the restaurant is a bit hard to find. We actually went up the elevator and appeared at the backdoor of the restaurant. It was a bit funny and embarrassing but that's okay. We were there to eat! Nevertheless, the staff welcomed us with smiles and the usual Japanese omotenashi (hospitality) experience. We were guided into a small private room with a table for four. It was quiet (minus the sound of our growling stomachs). This private room is great because we got to hang up our coats in a little closet. It felt super zen.
If you're in Tokyo, I highly recommend going to Ginza Kojyu.
Address: 銀座5丁目4-8, カリオカビル 4F, Chūō, 東京都 〒104-0061, Japan
Tasting Menu (Winter 2016):
First Course of a Variety of Small Japanese Dishes:

Carrot and Daikon Radish in Vinegar

Shirako

Hirame with Yuzu and Monk Liver

Tai Sea Bream Sushi

Gobo Burdock Root

Herring Roe

Hotate with Maitake Mushroom, Carrot, and Radish in Fish Broth

Maguro, Kanpachi, and Kue Sashimi

Ozaki-Gyu with Soy and Wasabi

Yuzu Butterfish with Miso, Kuromame, and Kuwai

Amadai Kaburamushi

Yellowtail, Burdock, Radish, and Carrots over Rice

Miso Soup

Pickles

Apple Prepared Four Ways
Let's start talking about the food and then we'll have a bathroom break (you'll understand what I mean later). To start, we got some complimentary Isojiman Ginjo Genshu Sake since it was the holidays. It was light, gentle, and sweet. I loved it. I would have drank more but then I would get drunk and I still wanted to be a real person for the rest of the day.
So, the meal started with this beauty (see above). What is that? I was bamboozled into thinking it was art. But, it might as well have been. Look at how beautiful it is. This was our appetizer. It came with six different bite-sized dishes. Let's start with the top row. The one on the left (with the rooster) was Carrot and Daikon Radish in Vinegar. It was simple and I used it as a palate cleanser. The middle one was the Herring Roe. It's golden in color and firm in texture. The individual eggs stick together closely, kind of like the pulp of a grapefruit. The taste is lightly fishy but more salty and umami in flavor. I loved it! On the right, that is a small dish of Burdock Root, which is similar to lotus root but more earthy in flavor.
Next, the bottom row. Starting from the left, the first dish was a lightly torched Shirako, or Milt. This is like roe but... the male version. It is usually harvested from Cod fish. The taste is surprisingly good. I feel awkward saying that. But, it's quite creamy and buttery. It's also very rich so it reminds me of monk liver. The milt is enclosed in a thin casing, which Ginza Kojyu torched until brown. For some reason, that gave it a burnt-cheesy feel to it. In the middle, we have the Hirame with Yuzu and Monk Liver. Hirame is a broad term for white, flat, horizontally-oriented fish. Hirame is commonly from Fluke, Turbot, Halibut, or Flounder. For Ginza Kojyu, their Hirame was tender and light it flavor. So, it went very well with the flavorful Monk Liver and Yuzu sauce. The Monk Liver is very rich - it's essentially the foie gras of the sea. Finally, on the right, we have the Tai Sea Bream sushi. Tai, or Sea Bream, is mild in flavor. I liked how it was designed to look like a lemon wedge :)
The first course was not filling but it really got our taste buds excited.
Next, we had the Hotate, or scallop, in a fish-like broth. It was accompanied with some Maitake Mushroom, Carrot, and Radish. The scallop was perfectly sweet. The meat was so soft and succulent. It was a good "warm-up" dish to get our appetites going.
Next, we got a small sashimi platter. This came with three different types of sashimi. Let's go one by one. The Maguro, or bluefin tuna, is the most red cut you see in the picture. It is likely the Akami cut, which is the lean meat that comes from the back of the fish. Even though it is lean, it is soft, delicate, and mild in flavor. Next, we had the Kanpachi, or Amberjack. This fish is pink in color and is surprisingly tender. The flavor is delicate and not very oily. Finally, the star of the show was the Kue. This longtooth grouper sashimi is a rare find. It's quite chewy but it packs a lot of flavor in its fat. At first bite, it tastes immaculate.
I think it's time for a bathroom break. You know you're dining luxuriously when the sink looks like that. For some reason, it was filled with ice and decorated with leaves. I've never had a more fun experience washing my hands.
Okay, back to the food. Next, we had something of a surf-and-turf. This was actually amazing. It came out on this beautiful ceramic plate, likely the work of a famous Japanese potter that Chef Toru Okuda appreciates. The fish was a Yuzu Butterfish. It was phenomenal. It was fatty and oily, just the way I like it. The Yuzu flavor helped ease the richness of the fish. It also came with a small Kuwai, which was like a tiny potato.
Let's talk about the meat, which was two generous slices of Ozaki-gyu, a type of wagyu beef raised in the Miyazaki Prefecture at a single farm managed by Muneharu Ozaki. The meat has that melt-in-your-mouth characteristic but it is still very tender (way more tender than Kobe beef). The meat is explosive in sweet, juicy, beefy flavor. I think Ozaki-gyu's most differentiating factor is its gentle sweetness. Ginza Kojyu did not provide us with a knife or anything so I guess they expected us to eat each piece whole. I preferred eating it this way so I don't lose any of those heavenly juices.
Next, we had the Amadai Kaburamushi. Amadai, or Tile Fish, has a very elegant flavor. It's savory, kind of like Red Snapper. This dish came out looking like a giant fish ball. But, it wasn't just a regular fish ball. It was as if the fish was combined with fluffy chunks of steamed turnip. It was like a savory cloud of happiness. The Amadai rested on top of a pool of dashi (Japanese cooking stock).
Finally, we were on our final dish. The Japanese leave the heavy dishes for the end of the meal to make sure that you don't leave hungry. That being said, they usually make these huge, elaborate rice dishes. During our visit, Ginza Kojyu presented a large bowl filled with grilled Yellowtail, Burdock, Radish, and Carrots. To be honest, we were already so full from the rest of the meal. But, we each still had one small bowl each. It was incredible. I would be so happy if I knew how to make this so I could make it for myself back in New York. This dish also came with Miso Soup and Pickled Vegetables.
For dessert, we had a dish made with apples. To be more specific, it was a dessert that used 4 different types of apples, each prepared a different way. The way that Ginza Kojyu made this dish really presented the unique attributes of each apple. For example, you could tell some apples were either more sweet, tangy, or sour. Overall, it was a pretty awesome dish. I couldn't even begin to describe all the intricate details of this dish. But, if I had to give a few examples, there was an Apple Compote with a White Wine Marinade. There was also Apple Ice Cream and Apple Jelly.
Once the meal ended, we were greeted by Chef Toru Okuda, who was kind to let us take a picture with him (see below). He was very nice and stayed to talk to us for a few minutes. At the end of our meal, he even let us check out the kitchen and take some pictures.