Szechuan Mountain House: Late Night Heat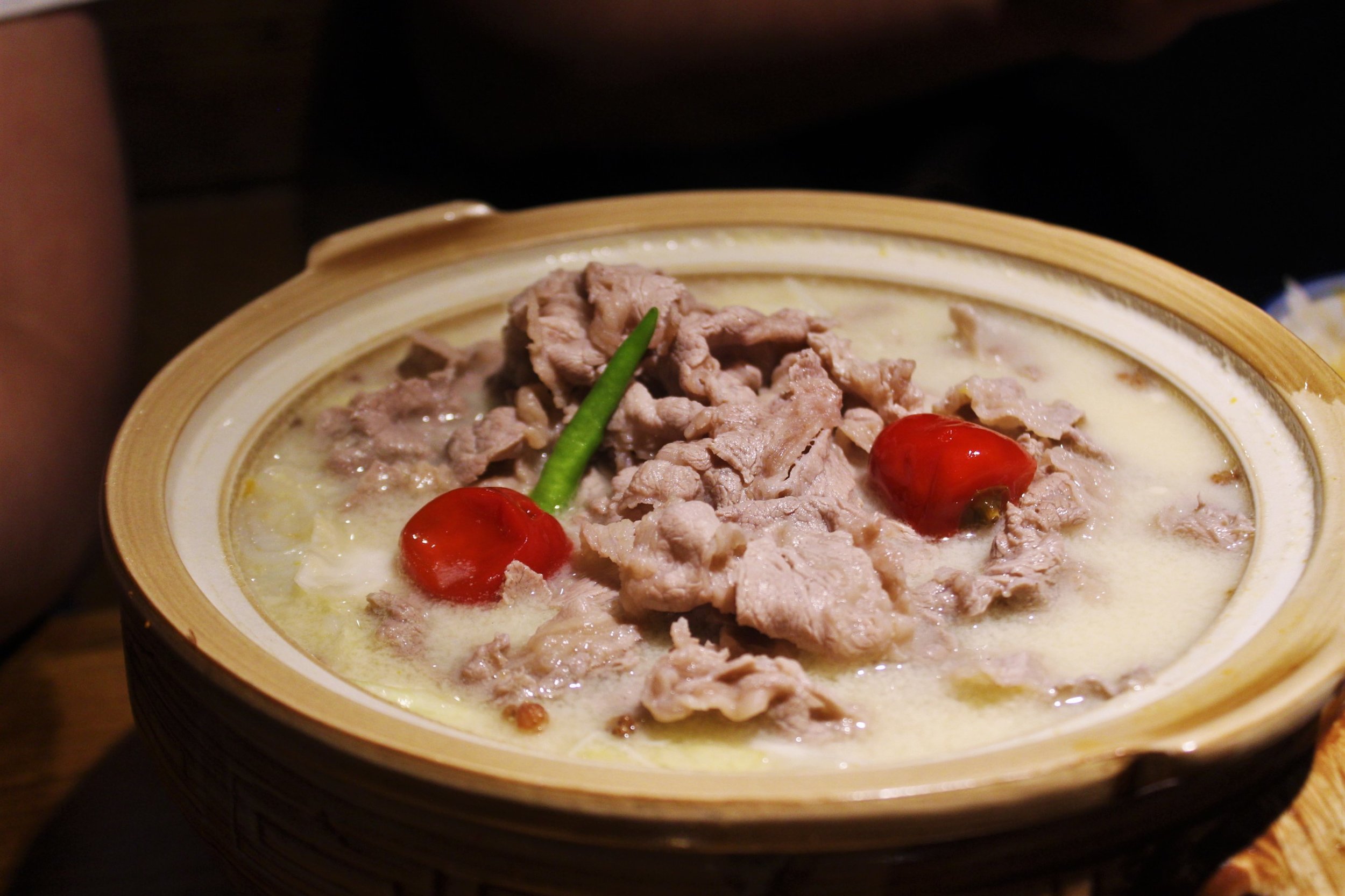 Hello and welcome back to Ngo Your Meal! Today, we're going to visit Szechuan Mountain House, an outpost for spicy and numbing eats in New York City. I must confess that I've actually been delaying the review for this restaurant for reasons unknown. My first visit was at their Flushing location last year. It was pretty damn good but, at the time, I don't think my taste buds had enough experience with Szechuan cuisine to know how good it actually was.
Szechuan (or Sichuan) is a southwestern province of China, known for its spicy cuisine. After months of blood, sweat, and tears, I've honed my Szechuan eating skills. While looking for a restaurant for my friend Sean's birthday, we had found out that Szechuan Mountain House had just opened in St. Marks the week of October 17. We went on October 18. Subsequently, I went back again and again on November 7, November 14, and December 2.
I kid you not. Eating here is a real experience. It's not just food anymore. My face is a mess from the constant wiping of sweat and tears. My muscles are tense as if I had just done some sprints. My mouth is slightly numb and yet I can't stop eating. My taste buds are tingling with spicy floral notes. To top it all off, the quality of food and spice at Szechuan Mountain House is notches above the rest and I'll explain why shortly. If any of the above things sound alluring to you, Szechuan Mountain House is the place for you!
Address: 23 St Marks Pl., New York, NY 10003
Recommended:
Stir Fried Chicken with Dried Chili Peppers

Fried Pork Intestines with Dried Chili Peppers

Sliced Pork Belly and Cucumber with Garlic Chili Oil

Braised Fish Head with Pickled Chili

Sliced Beef with Sour Soup

Fried Cabbage with Soy Sauce

Tilapia Stew with Chili

Ma Po Tofu with Chili Minced Pork

Spicy Mung Bean Jello Salad

Thin Sliced Conch with Roasted Chili Vinaigrette
Anyway, let's get started. I'll go over the pictures I do have but I have a few extra recommendations that aren't pictured here. First things first, when I eat with Steph, we always get Ma Po Tofu. Szechuan Mountain House's tofu comes with Chili Minced Pork.
This dish is often underestimated. What's so special about a bowl of spicy tofu, you ask? It's all hidden underneath the surface. Ma Po tofu is a staple in Szechuan cuisine. The backbone of this dish is made with two types of fermented bean pastes: doubanjiang and douchi. Doubanjiang is a broad bean paste that is funky and savory in flavor. Douchi is a salted black bean paste, which is pungent, salty, bitter, and a little sweet.
Ma Po Tofu also has ground Szechuan peppercorns that gives the dish a numbing twist. Eat this over rice, sit down, and be humble.
To cool things off, we had some stir fried cabbage with soy sauce. It doesn't sound like much but this is some true comfort food. With a couple bowls of rice, I could have a full order of this cabbage all to myself.
I highly recommend the appetizers at Szechuan Mountain House. I haven't tried them all but the ones I've had are all hits. Above, you'll find a bowl of Thinly Sliced Conch.
If you haven't tried conch before, it's a little bit like raw clam but it has a milder taste and a firmer texture. In my opinion, it's much better than clam. Since the conch's flavor is mild, all you need is a simple sauce. Szechuan Mountain House uses a Roasted Chili Vinaigrette.
Again, here's another refreshing appetizer to keep things cool. This one is a bit spicier though. Above, you'll see their Spicy Mung Bean Jello Salad (Chuanbei Liangfen). It's basically a starch jelly made with mung beans. This is commonly consumed in the summer and is often enjoyed as a snack in street vendors.
This snack is served cold and it really does have the texture of jello. These strips are usually seasoned with soy sauce, vinegar, sesame, garlic, and chili oil.
Next, we had some Braised Fish Head with Pickled Chili. The sauce/broth is nice over rice. Try it! The fish itself was tender and it had soaked up all the great flavors of the cooking stock.
The key differentiating factor at Szechuan Mountain House is the szechuan peppercorns. Usually, they are dry and hot (in terms of flavor). The REAL flavor should be more numbing and floral. I've rarely had some legit floral szechuan peppercorns besides the ones I've had at Szechuan Mountain House.
Often times, you'll ignore and remove those dry little peppercorns. At Szechuan Mountain House, I recommend trying one or two of these flavor bombs by themselves. You'll be shocked at the explosive floral notes that linger for minutes (or hours if you eat enough).
Next, we had some Sliced Beef with Sour Soup. Okay, I know the name sucks. It wins the award for most prosaic menu item for 2017. But, I swear it makes up for it in flavor.
The broth is milky white and has a strong vinegar flavor. This is a solid hangover or cold cure. It's pungent flavor will hit you in the face and burn through all the negativity in your body. You'll emerge feeling 100%... like a butterfly.
Finally, the last dish I want to talk about is the Tilapia Stew with Chili. You may find this dish under a different name. My Chinese friends say that the direct translation of this dish is "Water Boiled Fish". Again, not a very attractive name but TRUST ME. It's fantastic.
I also get the Spicy Fish Fillets with Chili Oil. It looks a lot like the dish above. In a giant pot, you'll find several fillets of white fish that have successfully soaked up all the luscious spices in the sauce. This is a must order.
What I find interesting about this dish is that it also has a lot of history. It's great eating the szechuan peppercorns and that perfectly tender fish but did you know chili peppers originated in Mexico? How did these things even get into Szechuan cuisine?
Well, thanks to the Columbian Exchange, China was exposed to chili peppers in the 15th century. These hot spices were incorporated in Szechuan cuisine and you can still see signs of it in their cultural dishes today.
That's all I have to say today. Hope you enjoyed all the pictures and the food knowledge. Go check out Szechuan Mountain House when you can! Maybe I'll see you there.