Xiringuito Escribà: A Seaside Supper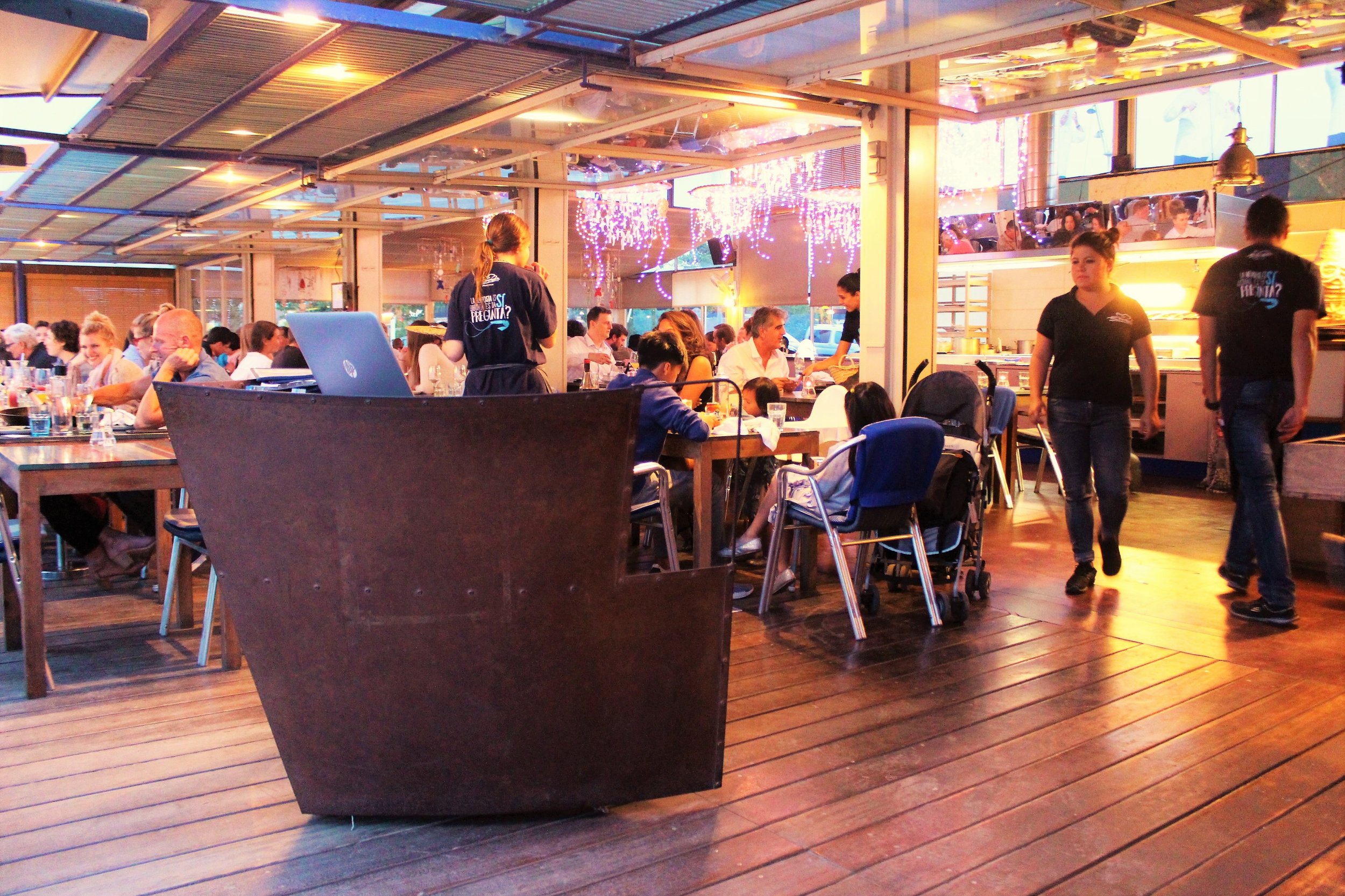 At the end of a very long day of walking and sightseeing, Steph and I ended up at La Barceloneta, a neighborhood known for its beautiful beaches. This area forms the edge of Barcelona facing the Mediterranean sea and is lined with a promenade of tapas restaurants and bars. In the middle of May, it's still a bit breezy but it's nice.
We made a reservation at Xiringuito Escribà, a restaurant specializing in authentically enormous paellas. Notably, it also had some great waterfront views. On the Sunday evening of our visit, the restaurant was lively but relaxed. It seemed like the perfect place to end the weekend.
To start our meal, we shared a couple appetizers, including a Sea Bass Ceviche and Fried Potatoes with a Spicy Hazelnut Tomato Sauce and Aioli. Other crave-worthy appetizers include their Almond Gazpacho, Whole Fried Scorpion Fish, and Freshly Caught Prawn on Hotplate. The sangria was also well-deserved. It could have used a bit more strength but it was tasty and refreshing. The rest of the drinks menu is occupied with a variety of Spanish wines.
However, make sure you save room for the main event: the paella! We chose the Valencian-style paella (19.5 Euros), which came with Rabbit, Chicken, Flat Green Beans, Vegetables, and Red Bell Peppers. It was HUGE. Go check out some of the photos below. The paellas are priced per person and range anywhere from 18 Euros (per person) for a simple vegetable paella to 34 Euros (per person) for an extravagant lobster broth paella. Some of their paellas have the option of substituting rice for fideuà, a thin Catalan noodle.
Their paella was quite good. After a while, I could see how some people might think it's a little salty. The rice was hot but not fully crispy with socarrat. Overall, I'd definitely come back again for a second visit!
This is the kitchen where you can see all the steaming pans of paella in the making!
The dining area has a nice beachy ambiance. Tables are spaced out comfortably and service is quite attentive.
These fried potatoes are a must order! The spicy tomato sauce comes with hazelnuts and aioli. [9 Euros]
At 24 Euros per 1.2 liter carafe, Xiringuito Escribà's sangria is a steal. They also have a cava sangria and a red wine sangria. Their white wine sangria comes with basil, apple, and cantaloupe.
The Sea Bass Ceviche is refreshing. The meat is firm and fresh. It comes with Aji Tiger's Milk and Banana Chips. Aji Tiger's Milk is a citrus-based marinade that helps cure the fish. It's made with lime juice, sliced onions, chili, salt, pepper, and some fish juice. [18 Euros]
Here's the Valencian-style paella. Note that the paella takes up almost the whole table! [19.5 Euros per person]
Steph likes big plates and jugs of food.
I am enjoying this sangria.