Mecha Uma: An Unexpected Spin on Japanese Flavors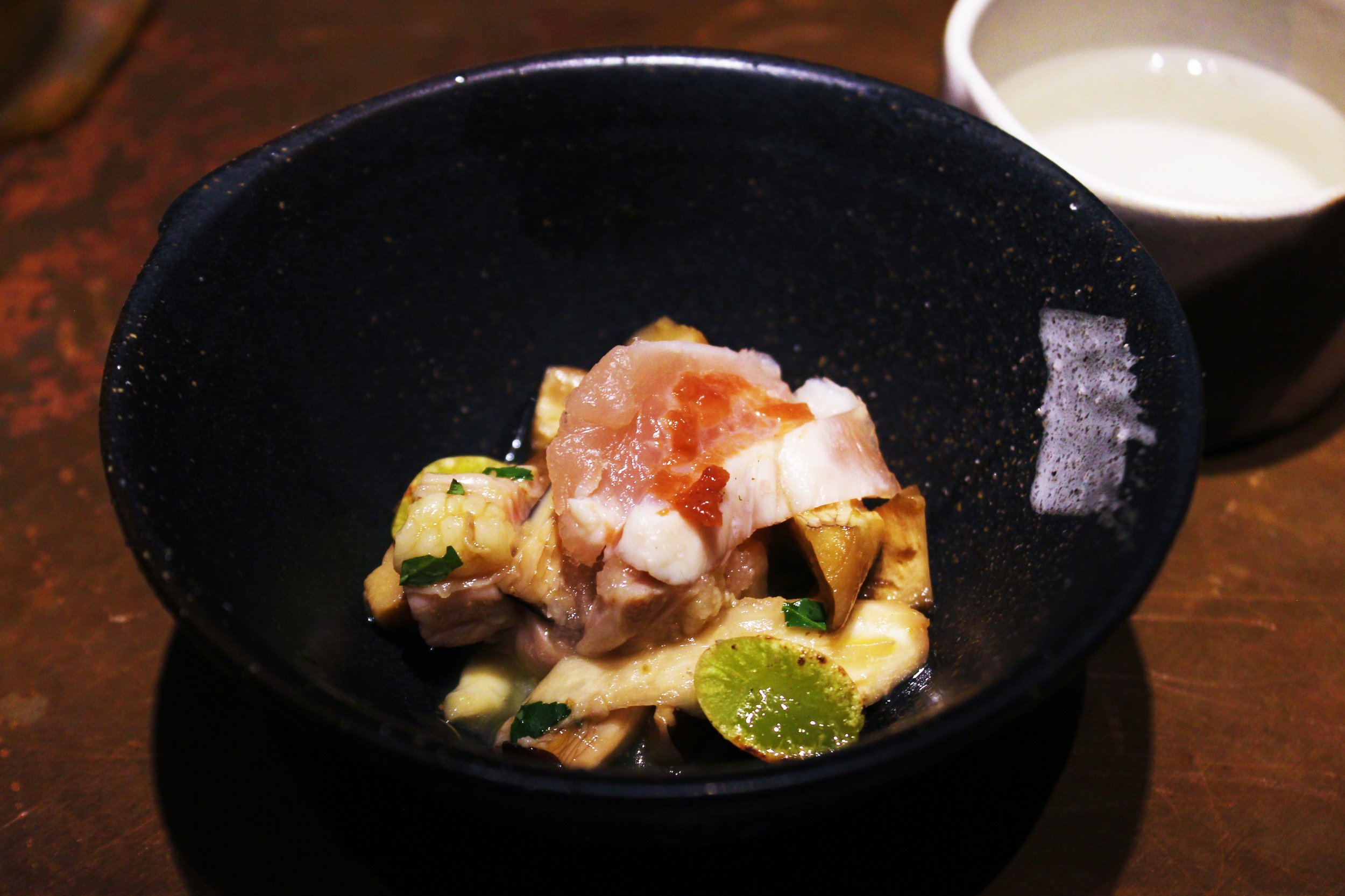 Plan a visit to The Fort, Manila's growing financial and lifestyle district. There you will find a wide range of interesting restaurants to choose from, including Wildflour, Las Flores, and Tipsy Pig. Today, we'll be talking about Mecha Uma, a trendy Japanese fusion restaurant that pairs authentic Japanese cooking with a little bit of rebelliousness.
At Mecha Uma, the decor has a healthy balance between being zen and industrial. The ambiance is intimate and attracts sophisticated clientele. The space is large enough to seat close to 30 people. The counter/bar seating is reserved for the tasting menu, which I recommend. At the counter, you'll also have front row seats right along Mecha Uma's open kitchen.
The tasting menu depends heavily on what Chef Bruce Ricketts can get his hands on that day. Some of my favorite dishes include the Matsusaka Beef, the Amadai, and the Fresh Sanma. The taste was incredible and the execution was impressive. But, there were some dishes that were just beyond this world. One of the most daring plates was a Lightly Seared Chicken Breast Sashimi with Blanched Chicken Neck, Sake-Pear Jelly, and Ginkgo Nuts.
All in all, Mecha Uma is definitely bold. I'm really looking forward to visiting again and trying what other exciting dishes they've got.
Cuisine: Japanese
Average Price per Person: $75 USD
Address: Manila, Philippines
Recommended: Tasting Menu
Overall Rating: 4

Taste: 4

Authenticity/Creativity: 4.5

Service: 4

Atmosphere: 4

Value: 4
This is the counter seating for Mecha Uma. It's well-lit and we had an awesome experience talking to the chef about the dishes or why he picked certain ingredients.
This Amadai, or Tilefish, was probably my first Amadai ever and it changed my life. Searing or frying the exterior of the fish will make the scales crisp and pop up. The texture is unreal. The fish has a firm texture, like red snapper.
Here, the amadai was prepared with yuzu and seaweed. The broth at the bottom was made with roasted fish bones.
Next, we had a trio of raw and lightly cooked fish. There was a Blanched Sea Bream. This one was very simple. I would say that the fish was barely cooked and a little more firm than a sashimi version. It was topped with Shiso.
In the back, you'll see that there's some Spanish Mackerel with Mustard and Grated Apple. Spanish Mackerel is one of my favorite types of fish to enjoy raw. All that buttery, oily fish flavor is alluring and addicting.
There was also a piece of Kanpachi, or Amberjack. This fish is pink in color and is surprisingly tender. The flavor is delicate and not very oily.
The Caramelized Eel that you see above came from Japan. Mecha Uma's version was even sweeter than usual. The exterior was caramelized and almost dessert-like. But, the meat of the eel was savory and rich.
It was placed on top of a small mound of rice and brushed with Soy.
I'm a big fan of their Sanma (Mackerel Pike or Pacific Saury). This tiny fish was grilled over charcoal so it was a bit smoky. This fish has a lot of oil and the meat is dense like a sardine. When you eat it, you'll notice that the flavor is very concentrated and goes well with citrus.
Mecha Uma's sanma came with a Mongo Purée, Dalandan, Grapefruit, and Vinegar. Perfect.
This one was a bit interesting. Before serving, the chef asked if we were okay eating semi-raw chicken. It's a bit odd but he said he likes it cooked that way and all his other dishes seemed to be pretty good so we took a gamble with it.
The chicken breast was lightly seared. The chicken used was from a Japanese black chicken. For texture, it was accompanied by blanched chicken neck and ginkgo nuts. There was also a bit of sake and pear jelly. Was it weird? Yes. Was it good? Yes. Did I get sick afterwards? Nope!
This next one was a lot of fun too. Here, we had a generous bite-sized portion of lobster and some lightly steamed monkfish liver (ankimo). If you've ever tried ankimo before, you'll know that it's basically foie gras of the sea. It's buttery, fatty, and luscious.
All of that awesome flavor was placed on some fried tuna skin.
I was pretty excited to have some Matsusaka Beef. This is hard to get outside of Japan, especially since it's one of the three "Sandai Wagyu" (i.e. the top three premium beefs in Japan).
Its name is derived from the Matsusaka region of Mie, Japan. These female- HALT. FUN FACT: The use of female, virgin Tajima cows makes the meat distinct from the male bulls used for Kobe beef. RESUME. These female cows are raised for several years with an all-you-can-eat-diet that revolves around soybeans and wheat. Naturally, they would lose their appetite so they're given BEER to stimulate hunger. Who knew drunk cows could make such great meat. They are often treated to massages and romantic strolls in the afternoon. In addition, the cows listen to soothing music to calm them down whenever they have cow problems. All of this is done to create a greater level of marbling.
Similar to the way it is enjoyed in Japan, the wagyu had a pinch of fresh wasabi. On the side, there was a small cut of Cabrales Cheese Glazed Potato.
As if the meal weren't lavish enough, this next dish was made with Ginger Buds wrapped in lightly seared Toro, or Fatty Tuna Belly.
Toro is so fatty that the color is barely pink. BARELY. Even in the photo above, you can see the marbling.
Lastly, the Slow Cooked Lamb with Sweetbreads was gorgeous. It was rich and elegant. Sometimes, sweetbreads bore me but the burnt eggplant brought a nice smoky char to the table.
Finally, for dessert, we had some White Asparagus Ice Cream with Cherries. The flavor was subtle but, oddly, it was asparagus... and, I enjoyed it.