Craft: Private Dining Experience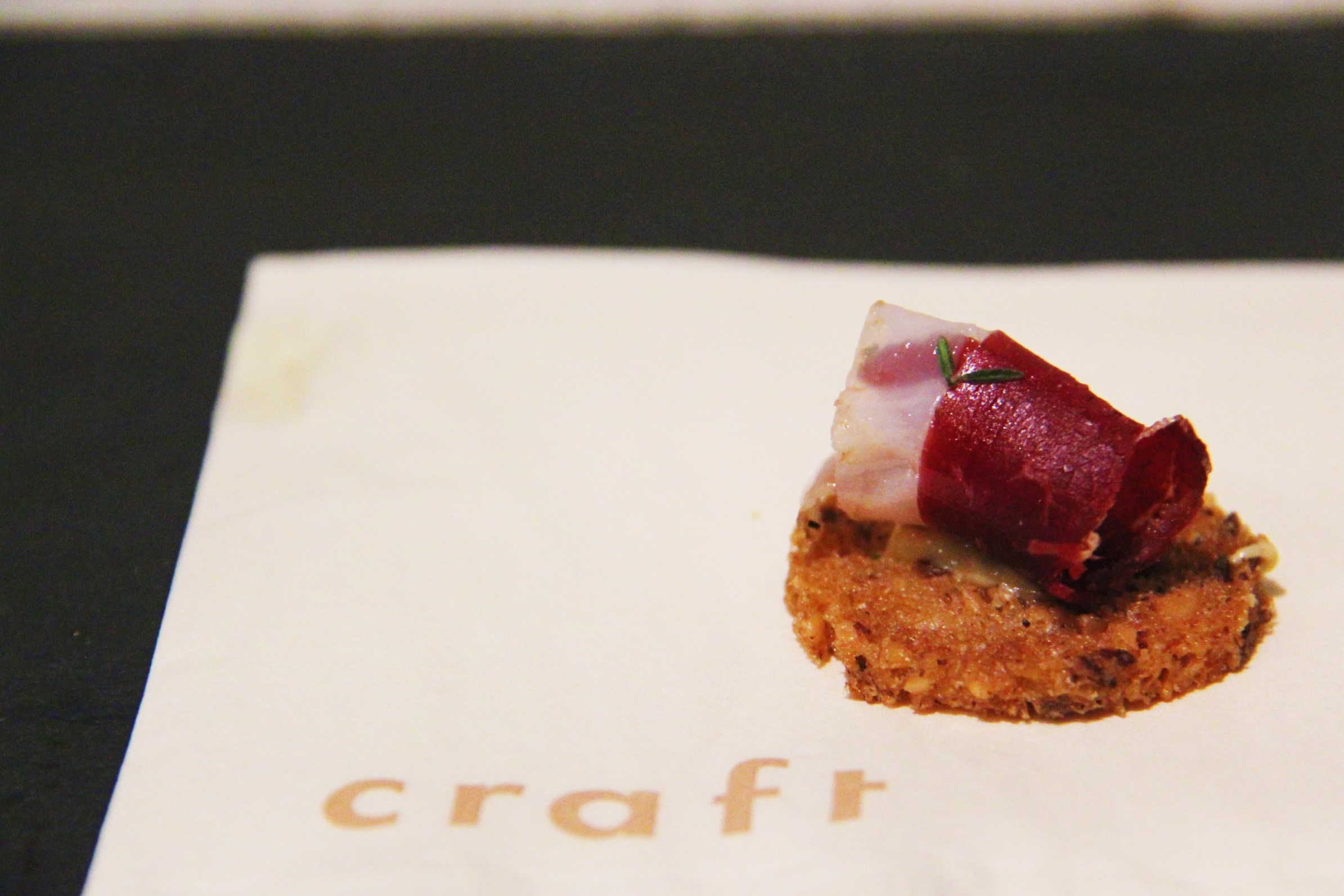 I went to Craft in May with my family after my school's graduation ceremony. It was definitely one of my favorite dining experiences. Craft's main dining room can be reserved for larger groups of 85-200 people while the private dining room (two doors down) can accommodate up to 40 guests. The private dining room comes with a reception area, a full bar, and a dining room space. There is a consumable depending on the time of day. There are a lot more details and if you're interested in reserving either the main or private dining rooms, you should refer to their website.
We booked a room for lunch so these details only apply to lunch. Craft gives you the opportunity to pick from three choices.
$65pp: 1 appetizer, choice of 2 entrees, 1 dessert.

$75pp: choice of 2 appetizers, choice of 2 entrees, 1 dessert.

$85pp: choice of 2 appetizers, choice of 2 entrees, choice of 2 desserts.
Note: Higher prices just mean you get more "choices" on your menus but not more "food". After you choose your option, Craft has a list of appetizers, entrees, and desserts that you can use to customize your guest's menus. Everyone has to have the same menu with the same set of choices.
Address: 43 E 19th St, New York, NY 10003
Recommended:
Octopus, Harissa, Crispy Potatoes, Soppressata

Wild Arugula, Parmesan, Preserved Lemon, Pine Nuts

Seasonal Bass, Potato Puree, Niçoise Olive

Braised Lamb, Ramps, Cranberry Beans

Banana Tarte Tatin, Vanilla Ice Cream

Chocolate Mousse, Espresso Caramel, Mascarpone Cream
Okay, time for the fun part. One of our choices for the appetizers was this beautiful octopus. It was cooked perfectly. The octopus was tender, flavorful, and not chewy like other octopus dishes. It was seared so well that you got just enough of that burnt flavor. I really enjoyed the crispy potatoes and the soppressata but I wish there were more. The sauce was a harissa, which is a Tunisian hot chili pepper paste. FANCY. I have to admit that the first bite was baffling. I had no idea something could be as magical as me. Three quick minutes later, I stood over this empty plate... victorious.
Our second choice of appetizer was this wild arugula salad. FUN FACT: Wild arugula is different than regular arugula. No, not because wild arugula throws crazy parties on the weekends. The difference is in the taste. Regular arugula can be boring and bitter while wild arugula is stronger and more pronounced. The salad was accompanied with parmesan (you can't go wrong with parmesan), preserved lemon, and pine nuts.
Regular lemons tend to overpower the subtle flavors of a dish. The preserved lemon was soft, sweet, and more mild than regular lemons.
Entree time!!! We'll start with the fish. The bass was fantastic. You could tell that the fish was of good quality. I like Craft because they use ingredients from local farms. The fish wasn't my dish and I only had a small bite of it so I can't really give the best response. The potato puree is just a fancy way of saying mashed potatoes. A puree is a cooked food that has been blended into a mash with a consistency similar to a thick, creamy liquid. Finally, the
Niçoise olive brings a really nice distinct sour taste to the dish.
This next entree was my order. The highlight of this dish was the lamb. The lamb is prepared by searing at high temperatures then left in a pot to cook at lower temperatures in some amount of liquid. This often helps mask the weird, gamey aftertaste that you get from eating lamb. A "gamey" taste is characterized by a strong, earthy flavor. This taste can be eliminated through careful preparation and seasoning. The lamb came with ramps (or spring onions), a vegetable that smells like garlic but tastes like an onion. What a confusing vegetable. Seriously, make up your mind.
The Banana Tarte Tatin was really nice. A Tarte Tatin is an upside-down tart where the fruit, in this case, the bananas, are caramelized in butter and sugar before baking. A Tarte Tatin is usually made with apples but Craft's Banana Tarte Tatin was delicious. It wasn't mushy and it didn't just fall apart when you cut into it. The Tarte Tatin was actually an accident made by the Tatin sisters in Lamotte-Beuvron, France. You could read more about the history behind the Tarte Tatin here. The dessert also came with some vanilla ice cream. What doesn't go well with vanilla ice cream?! NOTHING.
The last dessert on our menu is this chocolate mousse. It was a thicker type of mousse as opposed to a lighter, airy type of mousse. It was accompanied with a smear of espresso caramel and a scoop of mascarpone cream. Mascarpone is an Italian cheese. It's mixed with cream to become Mascarpone cream. Other flavors, like vanilla, can also be added to the Mascarpone cream. This is why it can sometimes be misinterpreted as ice cream.