Ai Fiori: A Focus On Italian and French Riviera Cuisine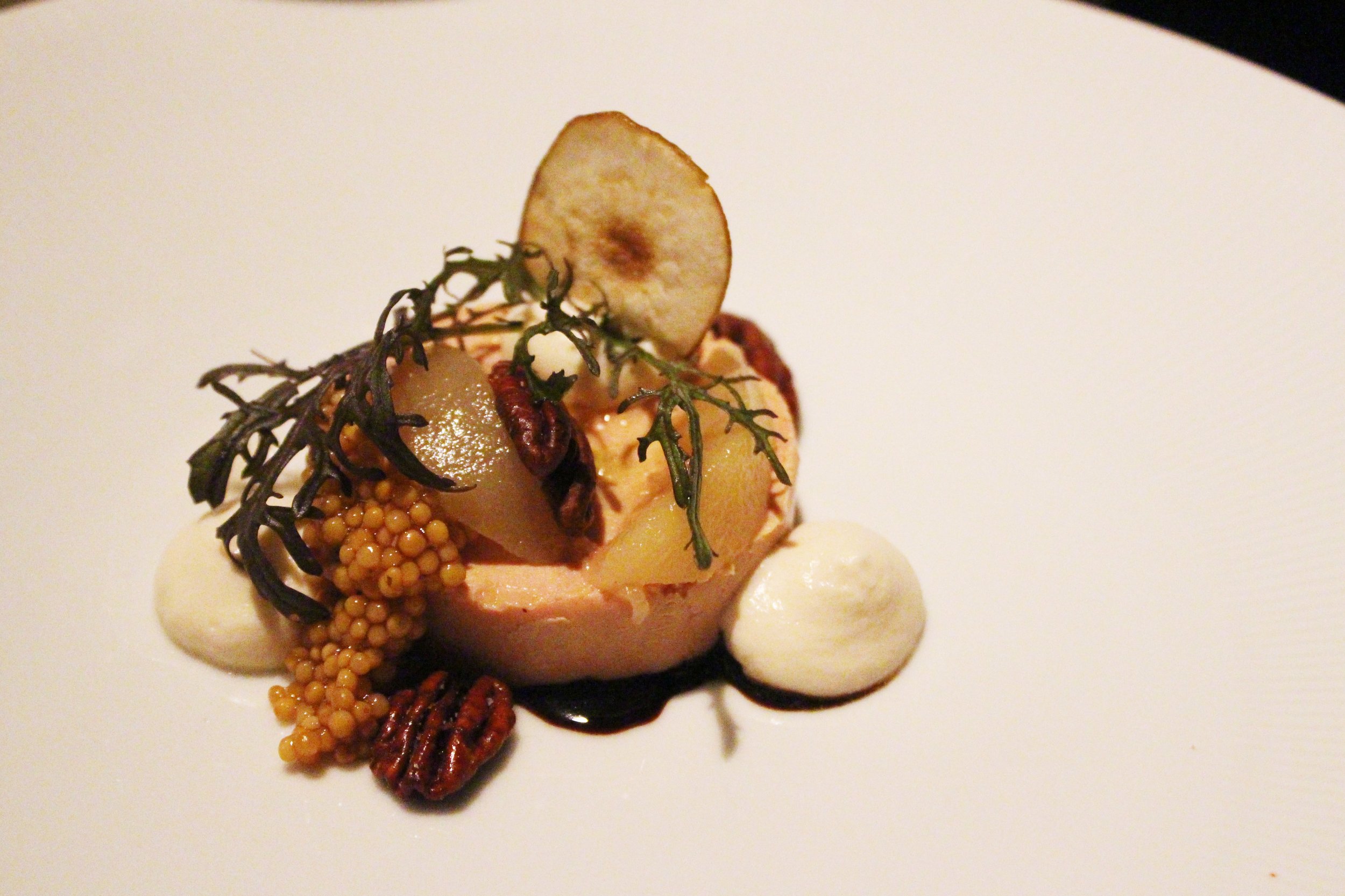 It was my girlfriend's birthday this month so we definitely had to celebrate. As you all know, I am uncontrollably suave so we had to eat at a restaurant that is almost as charming as me. I took her to a nice Italian restaurant called Ai Fiori in Langham Place. The restaurant was opened in late 2010 by Michael White, the owner, and is part of the Altamarea Group, along with other famous restaurants like Marea and Osteria Morini.
Ai Fiori focuses on both Italian and French Riviera cuisine with preparations from both land and sea. I would define this style as refined, artful, subtle, delicate, and light. The restaurant is well managed and it has a very classy ambiance.
To get to the restaurant, you have to walk up the stairs or take the elevator. Either way, you have to pass by the bar/lounge first. This was a difficult obstacle for me and you'll understand shortly. As you walk in, you'll see the sleek, white marble bar with attentive and knowledgeable mixologists. In the area surrounding the bar, there are a number of intimate seating spots to relax with friends. Your choices include cocktails designed by Eben Freeman along with over 300 wine selections. All in all, you'll want to have a drink or two… or fifteen before you head to the dining area.
Once you enter the dining area, you'll notice that it's modern and clean. It has great lighting. This matters a lot to me. I need to see my food. The chairs are comfortable. I could sleep on those. The table cloth is amply thick and soft. Some restaurants overdo the tablecloth and buy really thick, expensive tablecloths that feel like heavy window curtains. WHY?!
The patrons look fairly mature and respectful. They don't seem overly pretentious like the ones at similar establishments. The one complaint I have is about the bread. They were all stale. A knife wasn't even enough to break it apart. But seriously though, the bread was as hard as my pectorals. I hope they fix this.
The pricing was affordable and the service was decent. Entrees are about $35-40 and appetizers are around $25 each. But, the ambiance and the quality of the food was excellent.
All things considered, I would definitely come back. Happy birthday, Steph!
Address: 400 5th Ave #2, New York, NY 10018
Recommended:
Vellutata: lobster soup, périgord black truffles, tarragon

Crudo di Passera: fluke crudo, american sturgeon caviar, meyer lemon

Crudo di Dentice: red snapper crudo, garlic créma, crispy shallots, trout roe

Trofie Nero: ligurian crustacean ragu, seppia, scallops, spiced mollica

Spaghetti: blue crab, lemon, bottarga, chilies

Branzino: mediterranean sea bass, fregola stuffed calamari, soppressata, taggiasca olives, pomodoro

Astice: butter poached nova scotia lobster, garden beans, gold bar squash purée, breakfast radish

Anatra: long island duck, peach mostarda, mustard greens, pine nuts, duck confit
For my entree, I got the spaghetti. But it wasn't just a regular, boring spaghetti. It was spaghetti from the spaghetti gods in spaghetti heaven. The pasta was firm and tasty (I need to look into how they make their pasta. I'm not sure if they make it themselves but I wouldn't be surprised if they did). It came with an ample serving of blue crab. Blue crab has a very rich, succulent, butter flavor. It is also sweet but not as sweet as snow crab. The spaghetti had a light lemon taste paired with a subtle kick from the chilies. SO GOOD.
The most distinct part about the dish was probably the bottarga. Bottarga is a Mediterranean delicacy of salted, cured tuna or grey mullet fish roe. It sells for about $100 per pound. Bottarga is similar to caviar but lighter and less salty. It gives the dish a nice umami flavor without being too overwhelming.
Steph ordered the Trofie Nero. "Nero" means black. And, trofie is a thin, twisted, short piece of pasta. The trofie is made with squid ink pasta, which gives the dish a nice briny flavor that pairs well with squid and other seafood. Because it is twisted, it is said to be ideal for holding sauce. SAUCE.
Who doesn't love sauce?! The sauce was a crustacean ragu, or a seafood-base sauce. Seppia is Italian for "cuttlefish". Cuttlefish is nice because it's basically a mix between octopus and squid. It's not as rich as an octopus but it's tastier than squid. The trofie nero also came with bits of scallops and some spiced mollica (breadcrumbs). Overall, I appreciated it very much and I'd recommend it to anyone.
Plus, who can resist black pasta? Definitely not Batman. It's black and it's definitely the coolest looking pasta.
For dessert, we got the Pesca Melba (Peach Melba). The dish was invented in 1893 by a French chef named Auguste Escoffier so it's been around for a while. A typical peach melba is made with peaches and raspberry sauce with vanilla ice cream. It's a really nice, simple dessert. Other versions of this dessert might use pears, apricots, or strawberries. Ai Fiori's version comes with raspberry mouse, white chocolate, peaches, and peach gelato. Did we like it? It was alright. But at least it's kind of photogenic.