NAOE Part 2: Oh-My-Kase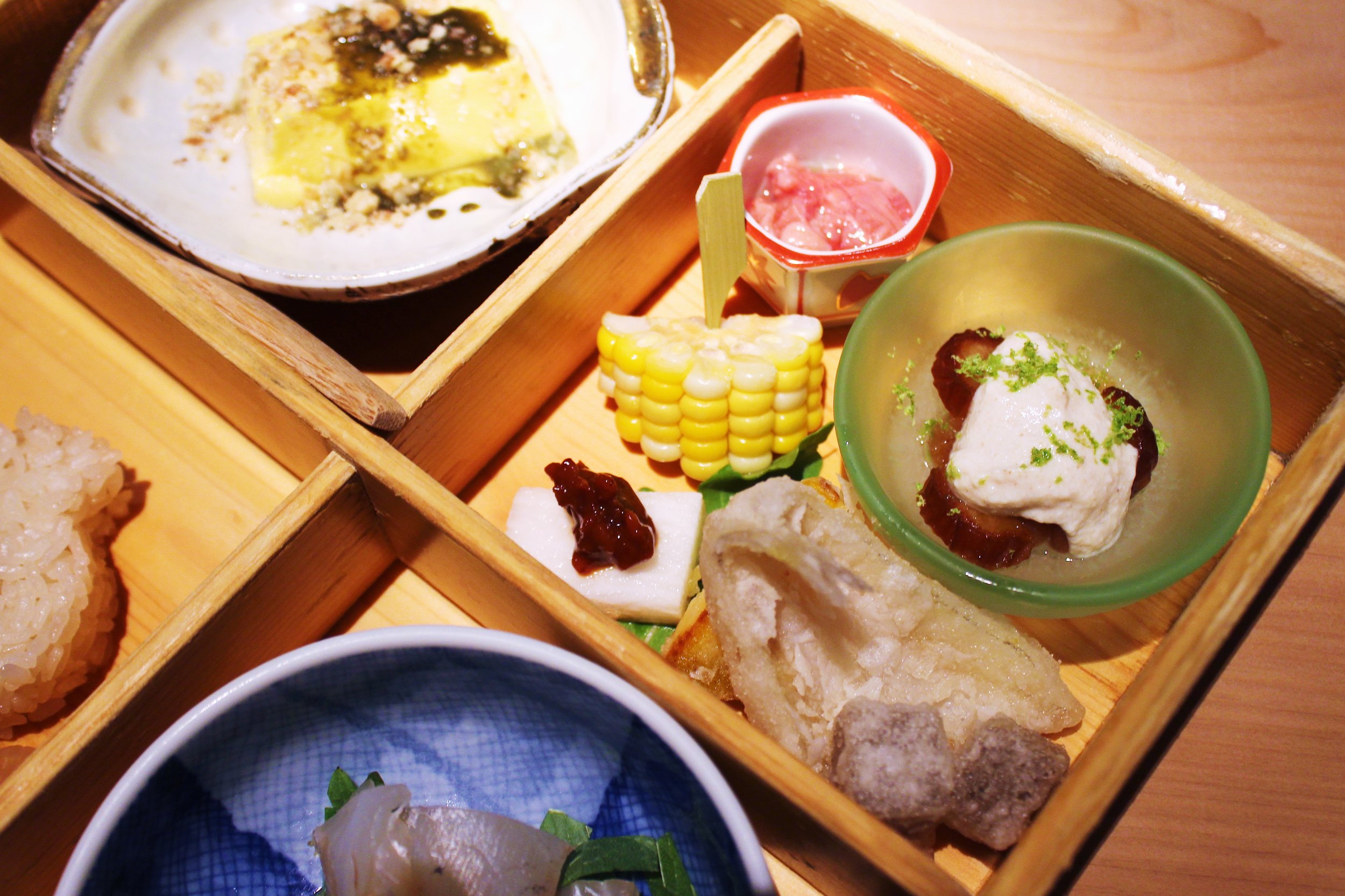 Hi Everyone! Welcome back to Part 2 of NAOE. If you haven't read Part 1, you can read it here so you don't miss out on the best bento box of your life. Anyway, just to give you a bit of background before we get started, this restaurant is owned and managed by Chef Kevin Cory and we were just in the middle of talking about his omakase.
Address: 661 Brickell Key Dr. Miami, FL 33131
Omakase Menu:
Bento Box: Sesame Tofu with Organic Dates and Sapodilla with Lime Zest; Fried Kisu and Konyaku; Mountain Yam with Soy Beans; Corn on the Cob; Japanese Yam Cake; Skipjack Tuna Innards Marinaded in Honey, Mirin, and Sake for 6 Months, Cured Yokowa (Baby Tuna), Scallop Mantle, Shiso Leaves, and Fresh Wasabi from Shizuoka, Japan, Pressed Rice with Shimeji Mushroom, Organic Egg Tofu with Abalone Liver Sauce and Walnuts

Soft Broiled Sanma (Mackerel Pike) from Japan with Green Beans, Pickled Lotus Root, and King Trumpet Mushrooms

Konowata (Sea Cucumber Innards) and Uni from Hokkaido

Unagi Shioyaki with Himalayan Salt

Keitt Mango Yokan Jelly

White Squid from Japan

Saba (Mackerel) from Hokkaido with White Seaweed

Scottish Salmon with Rice Wine Vinegar

Pumpkin Miso Soup

Kumamoto Oyster from California with Fresh Citrus and Wasabi

Akamutsu from the East Coast of Japan with Freshly Grated Ginger

Unagi Kabayaki with Narazuke Japanese Pickle Marinaded in Sake for 2 Years

Live Scallop from Boston with Orange Soy Sauce

Lightly Poached Maine Lobster, Octopus from Portugal, Steamed Monk Fish Liver, Sugar Snap Peas with Citrus Soy Sauce

Karasumi Marinaded in Sake, Salted, and Sun Dried

Matcha Tea and Keitt Mango Yokan Jelly

Castella Cake (Japanese Honey Cake) with Mystery Ice Cream

Mystery Ice Cream

Dragon Fruit from Homestead with Special Sauce

Soy Sauce Candy
So, to begin this post, we'll start with the sushi. The first one was the White Squid from Japan (above). It was warm on the tongue and super creamy in flavor. It wasn't like other squid sushi I've had, which were more tasteless and slimy. The rice was made really well too. Some say that the rice is the most important part of sushi and many Japanese chefs spend years trying to perfect it. Sushi rice is typically made with rinsed short grained rice with an even layer of vinegared flavor throughout. Good sushi rice is a bit sticky and can form delicate, fluffy pillows to support the fish.
Next, we had the Live Scallop from Boston with Orange Soy Sauce (above). We all know that seared scallops are fairly firm in texture. But, raw scallops still retain a lot of water. So, the scallop sushi was soft in texture. It was also sweet and had a mild fishy taste.
Then, we were served the Akamutsu(?) from the East Coast of Japan with freshly grated ginger. I loved it! It reminds me of a mix between chutoro and aji because it was decently fatty and oily. Overall, it was just a flavor bomb of luscious, buttery goodness.
Next, we had Saba (Fresh Mackerel) from Hokkaido with White Seaweed (above). My favorite type of sushi are the ones with Mackerel, whether it is Japanese Horse Mackerel or Spanish Mackerel. NAOE's Saba was tender and full of fresh, fishy flavor. Saba is an oily fish, which come with amazing cardiovascular health benefits. Mackerel, in general, is a good source of vitamin D, omega-3 fatty acids, and protein. However, because of the high oil content, the fish has a shorter shelf life. Therefore, it is imperative that the fish is served fresh.
Then, we were also served the Karasumi, which was roe marinaded in sake, salted, and sun-dried. It's similar to Italian Bottarga. Imagine this to feel something like beef jerky but with a fishy flavor. It's delicious!
Above, you will notice the majestic Kanoko and Uni. The uni (sea urchin) is the yellower one. Uni is a gift from the heavens. It's light but very custard-like. I would say that the flavor is perfectly in between briny and sweet. NAOE gets their uni from Hokkaido, Japan. Due to the colder waters of Japan, the uni tends to grow smaller and sweeter in flavor. Hokkaido is to Japan as Maine is to the US; It's a seafood lover's paradise! The Kanoko had a contrasting flavor. Kanoko is the innards of sea cucumbers.
To prepare enough Kanoko for the night, NAOE needed to harvest the innards of 80-100 sea cucumbers. For some reason, whenever a sea cucumber feels threatened, it will shoot out all its innards in an effort to scare and confuse its predator.
Don't worry! These sea creatures are able to regenerate their innards. Sam explained that it takes a sea cucumber a week to regenerate but it takes a full year to achieve the same quality. This makes me curious how they raise sea cucumbers in a harassment-free environment. Anyway, the Kanoko was soft and chewy. To me, it was savory and slightly sour. I'm not a very adventurous eater so... at this moment I kind of felt like Andrew Zimmern eating creepy stuff. But, I still enjoyed it a lot.
Lastly, we had eel prepared two ways. The first was in sushi form with Unagi Shioyaki, where the eel was roasted and steamed. It had Himalayan salt on top. This practically melted in my mouth with a great fatty taste.
Next, was the Unagi Kabayaki, which was roasted and steamed then topped with a sweet-soy sauce. The eel had a beautiful sweet and smokey taste. I couldn't hold back. I ate this in less than a minute but it was a minute of total pleasure. It also came with some Narasuke Japanese pickles that have been marinaded in sake for 2 years. TWO YEARS. It had a strong sake taste but I loved it!
For dessert, we were introduced to a series of interesting treats, which included the Dragon Fruit with the Chef's special sauce, Matcha Tea with Yokan (like Jello) made of Keitt Mango, and a Japanese Honey Cake, which was made without butter or oil.
Finally, NAOE ended our meal with a quenelle of mystery ice cream. I don't want to spoil the flavor... but you guys can take a guess and I'll tell you if you're right :)