NAOE Part 1: Oh-My-Kase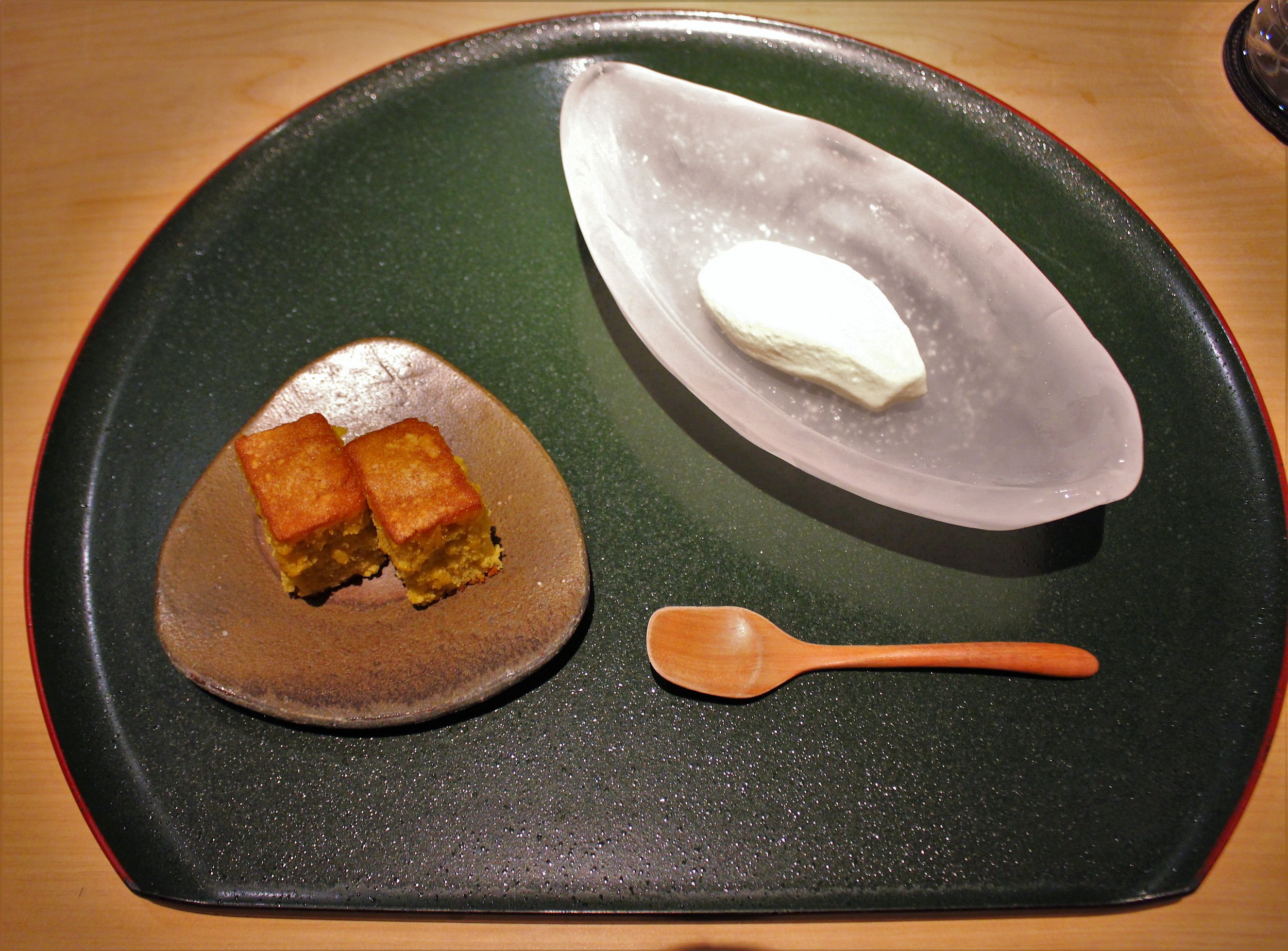 Hi! Today, this is part of a 4 restaurant series for our visit to Miami, Florida. This review on NAOE will be split up into two posts so you don't have to fall asleep reading one giant review. Anyway, this restaurant is piloted by Chef Kevin Cory, the mastermind behind this premier establishment. Throughout our meal, we observed Chef Cory as he orchestrated our dinner into a personalized dining experience. At the same time, our kind hostess (Samantha) explained every dish and answered all our questions. NAOE embodies all that I appreciate in great Japanese cuisine - the passion for achieving perfection. There are so many specialists in Japan that focus on only one thing, may it be tempura, yakitori, udon, etc. The level to which they create their meals is completely virtuous.
Anyway, thanks for reading! Look out for Part 2 soon.
Address: 661 Brickell Key Dr. Miami, FL 33131
Omakase Menu:
Bento Box: Sesame Tofu with Organic Dates and Sapodilla with Lime Zest; Fried Kisu and Konyaku; Mountain Yam with Soy Beans; Corn on the Cob; Japanese Yam Cake; Skipjack Tuna Innards Marinaded in Honey, Mirin, and Sake for 6 Months, Cured Yokowa (Baby Tuna), Scallop Mantle, Shiso Leaves, and Fresh Wasabi from Shizuoka, Japan, Pressed Rice with Shimeji Mushroom, Organic Egg Tofu with Abalone Liver Sauce and Walnuts

Soft Broiled Sanma (Mackerel Pike) from Japan with Green Beans, Pickled Lotus Root, and King Trumpet Mushrooms

Konowata (Sea Cucumber Innards) and Uni from Hokkaido

Unagi Shioyaki with Himalayan Salt

Keitt Mango Yokan Jelly

White Squid from Japan

Saba (Mackerel) from Hokkaido with White Seaweed

Scottish Salmon with Rice Wine Vinegar

Pumpkin Miso Soup

Kumamoto Oyster from California with Fresh Citrus and Wasabi

Akamutsu from the East Coast of Japan with Freshly Grated Ginger

Unagi Kabayaki with Narazuke Japanese Pickle Marinaded in Sake for 2 Years

Live Scallop from Boston with Orange Soy Sauce

Lightly Poached Maine Lobster, Octopus from Portugal, Steamed Monk Fish Liver, Sugar Snap Peas with Citrus Soy Sauce

Karasumi Marinaded in Sake, Salted, and Sun Dried

Matcha Tea and Keitt Mango Yokan Jelly

Castella Cake (Japanese Honey Cake) with Mystery Ice Cream

Mystery Ice Cream

Dragon Fruit from Homestead with Special Sauce

Soy Sauce Candy
Anyway, our meal at NAOE began with a bento box. BENTO BOX, you say?! Yes. A very glorious bento box. It only had 4 compartments. But, it had a billion things inside. Each compartment could be a review on its own but I'll try to keep it short and focus on what really blew my mind... which was basically everything.
First, we ate the Pressed Rice with Shimeji mushrooms. It was a good introduction to wake up my tastebuds for the next 2.5 hours of flavor bombs. The Organic Tofu with Abalone Liver Sauce and Walnuts (see above) was pretty badass too. It's super soft and light with a rich taste. Next, I enjoyed the Cured Yokawa(?) (baby Tuna) with Scallop Mantle and Wasabi from Shizuoka.
As you can see, things are starting to get a bit intense. The tuna was on the tender side with a nice light flavor to compliment the fragrant shiso leaves, which smelled of anise. Chef Cory also prepared fresh wasabi right in front of us. He took a wasabi stem and started grinding it. The final product, compared to regular store-bought wasabi, was less dense, lighter in color, moist, less pungent in flavor and smell, and more pleasing to eat on its own.
The final compartment contained a ton of stuff (as shown above). There was Fried Kisu, a Japanese whiting fish, which was lightly fried and not too salty. It came with fried Konnyaku, a starchy, semi-flavorless Japanese food that is derived from a plant called the Devil's Tongue. SPOOKY. It was chewy and tasted like yam/potato. There was also a small corn on the cob, mountain yam with soybeans, and fried organic pumpkin. The last two things really left me sobbing... because it was so awesome.
The first was a Sesame Tofu with Organic Dates and Sapodilla with Lime Zest. The tofu was perfectly nutty. And, it went well with the sweet, fruity fudgy taste of the dates. The Sapodilla is kind of like a small pear. The three different flavors of the fruits amalgamated into a single cocktail of mind-numbingly good zesty flavor to compliment the tofu.
Lastly, I enjoyed the Shutuk(?), which were Innards of Skipjack Tuna marinaded in Sake, Honey, and Mirin for 6 months. 6 MONTHS. I tear up every time I think about it. It was beautiful. I really appreciated the Sake/Mirin taste. (Mirin is a popular Japanese rice wine condiment). But, the innards were totally awesome. Thanks to the marinade, the innards had a subdued bitterness with a sweeter and more aromatic scent. The tuna was chewy and full of flavor. I enjoyed feeling adventurous with this delicacy.
Next, we had the Soft-broiled Sanma (Pacific Saury) from Japan. It was so good that I almost ate the whole fish including the bones! The skin was perfectly crisp and the meat had a gorgeous buttery, oily, taste. When I have these types of oily fish, I love drenching it in lemon juice to give it some awesome zesty elegance. The fish also came with Broiled Eryngi (King Trumpet Mushroom). It was flavored with Safflower oil and Himalayan salt. The Safflower oil provided a flowery, herbaceous taste. The Eryngi was stunningly good. I don't even like mushrooms but I devoured these. They were so juicy! I don't know why but it reminded me of those large white asparagus stalks.
FUN FACT: Safflower oil is nutritious and helpful in mitigating chances of heart disease.
Wow! This post is getting quite long but I still have stuff to talk about! Next, we got some fresh Kumamoto oysters from California. These oysters are sweet, creamy, and extremely buttery. After a few seconds on your palate, its got a slightly briny taste at the finish but is accompanied by a fresh citrus and wasabi flavor.
Finally, we were served a plate of Octopus from Portugal, Steamed Monk Fish Liver, and Lightly Poached Maine Lobster. BRUH. This is basically all the umami of the sea. The Octopus, we were told, only grows up to 5 inches. And, the Monk Fish Liver was glorious. It's considered to be the foie gras of the sea thanks to its luscious, buttery taste. In contrast to foie gras, it's low in cholesterol and fat.