Mu Ramen Part 1: The Flavor Awakens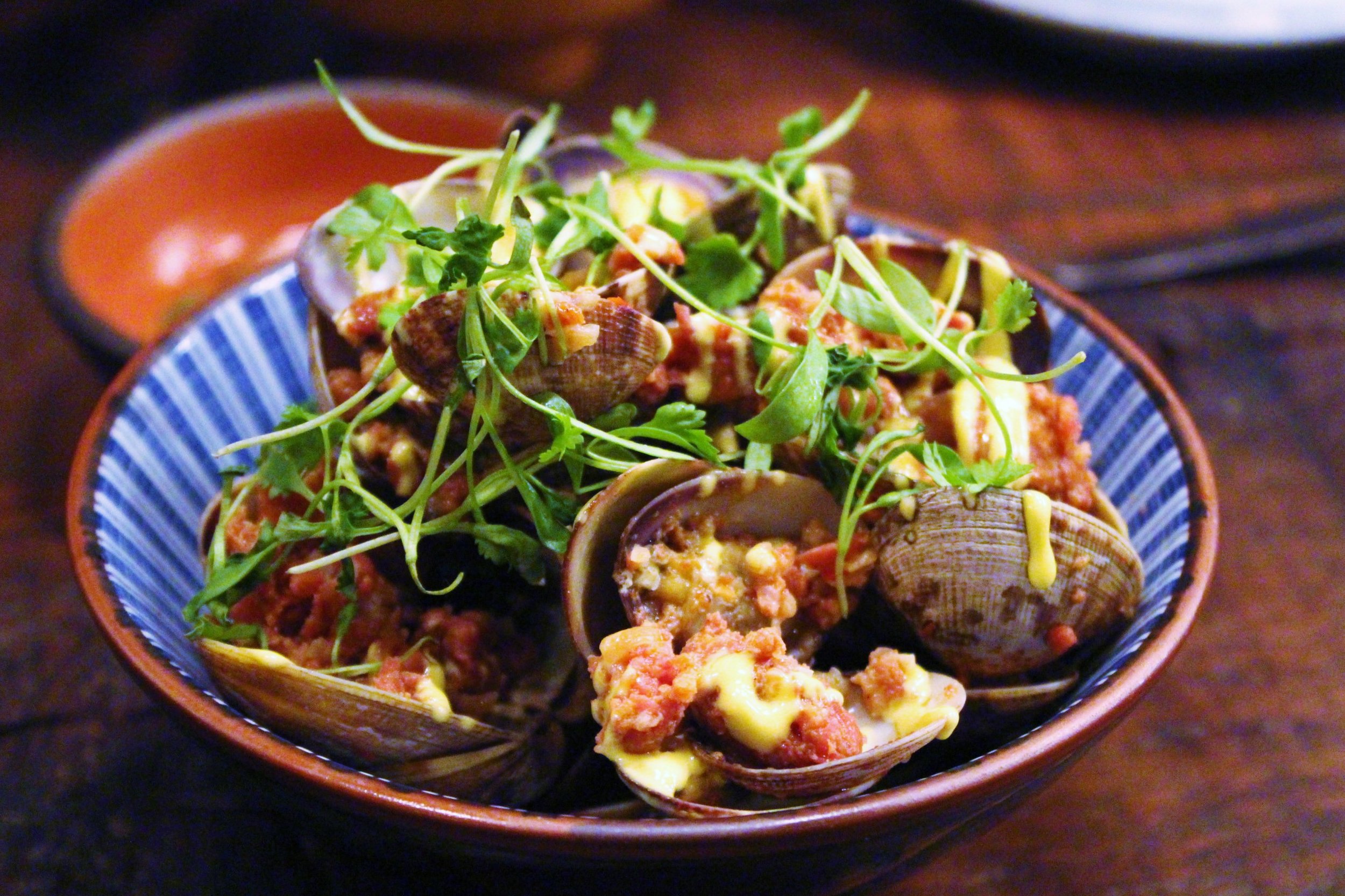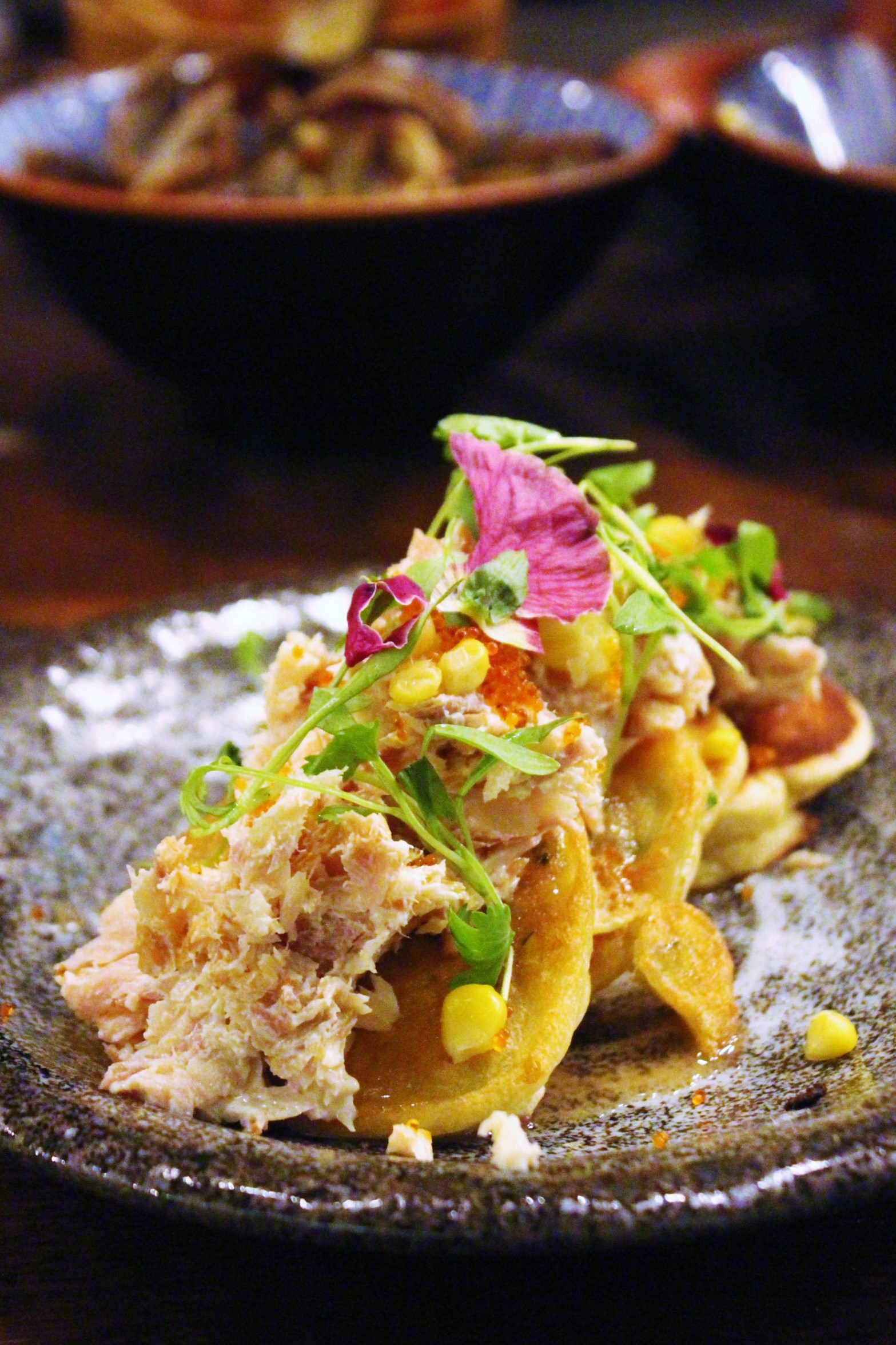 Good morning!! Today, we're talking about one of my new favorites: Mu Ramen in Long Island City, NY. I wanted to eat here ever since my most trusted food comrade sent me this article. With a headline that read "Foie Stuffed Wings", I knew I needed to go. Over a year later, I finally managed to go with Steph and my mom. The restaurant is owned by Joshua and Heidy Smookler, the power couple whose background includes working at Per Se and Buddakan, respectively. Mu Ramen is a fairly small restaurant with only about 20 seats, serving innovative Japanese appetizers and ramen.
I split this review into two parts because there were so many dishes! You can continue reading here for Part 2.
Address: 12-09 Jackson Ave., Long Island City, NY 11101
Recommendations:
Kuro Edamame: Black Edamame, Charred, Yuzu Salt, Chili

U&I: Uni, Spicy Maguro, Ikura, Sushi Rice, Sesame, Roasted Nori, Wasabi

Clams: Chorizo, Garlic, Saffron Aioli, Lemon Zest, Butter, with Mu Dipping Sauce

Okonomiyaki: Scallion and Corn Meal Pancake, Smoked trout, Tobiko, Foie Maple Syrup

Tebasaki Gyoza: Deep Fried Chicken Wings Stuffed with Hudson Valley Foie Gras and Brioche

Mu Ramen: Oxtail and Bone Marrow based Soup with Corned Beef

Spicy Miso: Red Miso and Pork Based Soup

Tonkotsu 2.0: Kurabuta Pork Noodle Soup Topped with Ton Toro
Anyway, let's start talking about the food. First, we got the Kuro Edamame, which was "Black Edamame" with Yuzu Salt and Chili. The edamame was not really black. It's just convincingly charred, lending the bean a smoky, bitter flavor. Edamame is usually steamed or boiled and then salted. Mu Ramen's use of Yuzu Salt and Chili was a unique version of this typical Japanese appetizer. NICE.
For this post, I'll only talk about a few of the appetizers. The next post will go into the rest of the appetizers and the ramen. Sorry! I need to split up the post. Otherwise, it will be too long. We ordered the U&I (+10 points for clever name). It's a chirashi with uni (sea urchin), spicy maguro (spicy tuna), and ikura (roe).
The U&I also came with wasabi, roasted nori (seaweed), and a bed of sushi rice. Just look at the picture. It was so photogenic and mouthwatering that I didn't even know how to start. Do I eat each topping by itself to savor the individual flavors? Or, do I mix everything together so each bite is just an explosion of 6-7 different tastes? The spicy tuna was perfectly complemented by the explosive roe and the buttery goodness of the uni. This dish is relentless.
Next, we got the Tebasaki Gyoza. THIS is what I came for. These are Deep Fried Chicken Wings STUFFED with Hudson Valley Foie Gras, Brioche, and Quince. The way they prepare these wings is actually pretty intense. You can read about it here. Anyway, the brioche is basically seasoned and soaked in chicken broth. The chicken wing is deboned to remove the ulna and the radius then stuffed with quince and the brioche. Quince is an aromatic fruit, similar to apple or pear. Unfortunately, it needs a lot of work to be enjoyable. When raw, it is sour and tough. Therefore, it is usually cooked to bring out its flavor and fragrance. Quince is also frequently prepared as a jelly or jam.
Finally, the wings were battered and deep fried. The chicken was delicious. I wish the chicken/foie to brioche ratio was a bit higher but that's alright. Hudson Valley Moulard Ducks are probably the best in New York. You will see several great restaurants source their duck meat, foie, and terrine from this farm. The Moulard duck is a cross-breed between the Pekin duck (mild taste, low in fat) and the Muscovy duck (gamey taste, lot's of meat). This breed amalgamates into a nice, fatty, and mildly gamey tasting duck. A little off topic but Moulard duck breast has a really nice lining of fat that just explodes in your mouth. It's really awesome.
Lastly, we shared the Okonomiyaki. This is a savory Japanese pancake that can be made with a variety of ingredients. While the batter usually contains flour, eggs, mixed vegetables, and yam, the Okonomiyaki is frequently flavored with pork, octopus, shrimp, or cheese. Mu Ramen makes their pancakes with scallions and corn meal. The pancakes are then topped with smoked trout, tobiko (flying fish roe), and foie maple syrup. The strong fishy taste of the trout was well-balanced with the sweetness of the pancake.
That's all for today. Next week, I'll finish writing about the last appetizer and the ramen :)