Mu Ramen Part 2: The Flavor Awakens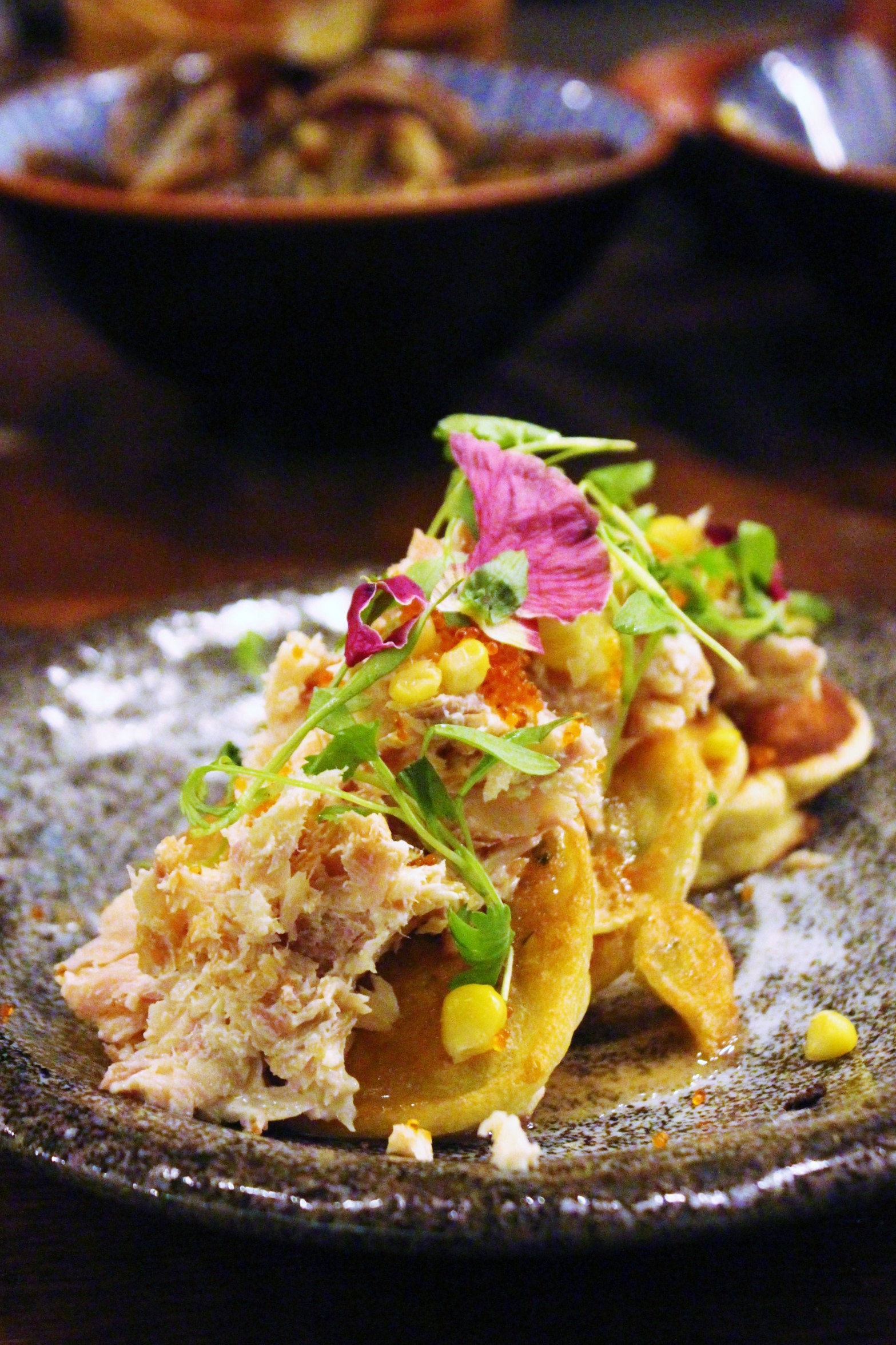 Hello again! Today, we're finishing up the rest of the meal at Mu Ramen, recommended by our friend @aileenchua. If you haven't already, you can check out our last post here, where we talked about most of the appetizers. For this post, we'll talk about one last appetizer and the ramen! Anyway, I've been wanting to eat at Mu Ramen for quite a while now. And, during my visit, we basically ordered everything on the menu. A quick background for those who haven't read the last post: Mu Ramen is a fairly small restaurant with only about 20 seats, serving innovative Japanese appetizers and ramen.
Address: 12-09 Jackson Ave., Long Island City, NY 11101
Recommendations:
Kuro Edamame: Black Edamame, Charred, Yuzu Salt, Chili

U&I: Uni, Spicy Maguro, Ikura, Sushi Rice, Sesame, Roasted Nori, Wasabi

Clams: Chorizo, Garlic, Saffron Aioli, Lemon Zest, Butter, with Mu Dipping Sauce

Okonomiyaki: Scallion and Corn Meal Pancake, Smoked trout, Tobiko, Foie Maple Syrup

Tebasaki Gyoza: Deep Fried Chicken Wings Stuffed with Hudson Valley Foie Gras and Brioche

Mu Ramen: Oxtail and Bone Marrow based Soup with Corned Beef

Spicy Miso: Red Miso and Pork Based Soup

Tonkotsu 2.0: Kurabuta Pork Noodle Soup Topped with Ton Toro
With that, let's start talking about the food. We got the Clams, which were dressed with Chorizo, Garlic, Saffron Aioli, Lemon Zest, and butter with a Mu Dipping Sauce. The clams were a bit too small but the flavor was badass. Like Liam Neeson type of badass. This appetizer was awesome even though there was a lot going on. It came with Chorizo, Lemon Zest, Butter, and Garlic. It was also drizzled with Saffron Aioli, which is just a sauce made of olive oil and garlic. So, basically, more garlic.
The clams came with a small bowl of Mu Dipping Sauce. It reminded me of Vietnamese Nuoc Cham, which is often made with lime, fish sauce, sugar, and chili. The Mu Dipping sauce tasted primarily of vinegar, coriander, and chili. That being said, the Mu Dipping Sauce was a really nice sweet, sour, tangy, and spicy sauce. We were advised to dunk our clams in the dipping sauce to experience maximum enjoyment.
Steph got the Spicy Miso ramen with extra corn. I can't speak too much about her ramen but I do want to point out that the ramen was made with red miso, also known as aka miso. Red miso is one of the strongest and most pungent of misos. It is basically fermented soy beans and barley or a different grain. Its satisfying umami flavor can be attributed to either a longer fermentation period or a higher percentage of soy beans. That being said, it's perfect for marinades and soups.
I got the Mu Ramen. It's a beef-based soup. Usually, beef broth is darker in color, less opaque. If you dip your spoon into pork broth, it will disappear. You won't find the same magic with regular beef soup. Pork broths are fattier, richer, and thicker. You can imagine my surprise when the ramen arrived in front of me looking the way it did (see picture above). Mu Ramen makes their beef broth with oxtail and bone marrow. It's absolutely invigorating. You get the umami goodness without all the saturated fats, which are said to increase chances of heart disease. The Mu Ramen also came with a decent portion of salt-cured beef, more popularly known as Corned Beef.
Overall, I liked both of our ramen. If I had to choose between the two, I would probably get the Spicy Miso Ramen though. The next time I'm here, I'm definitely trying out the Tonkotsu 2.0 for that Berkshire Pork Soup.