Kyo Ya Part 2: Next Level Kaiseki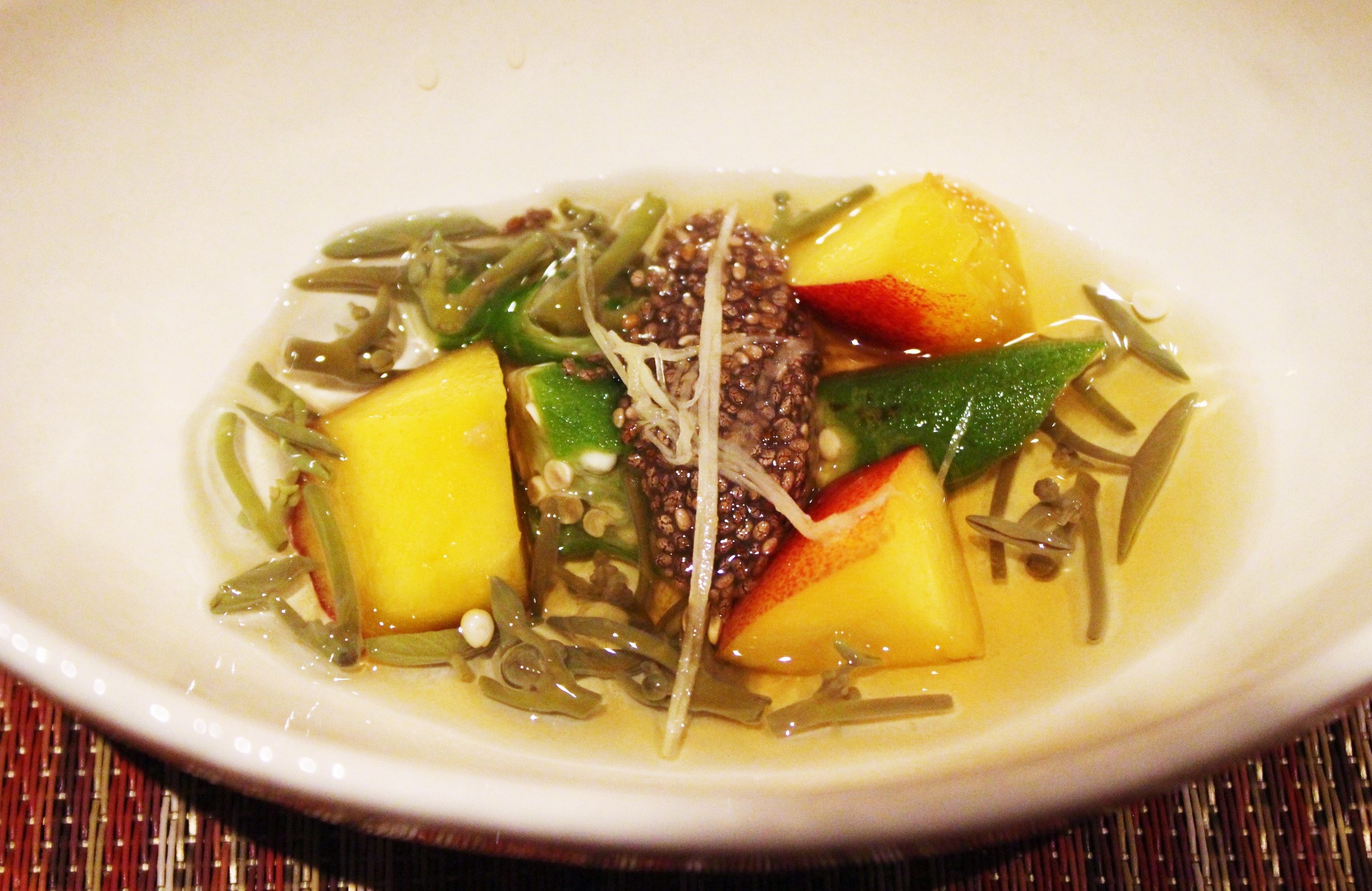 Hello! Welcome back to Part 2 of the Kyo Ya review. As a quick reminder in case you forgot or didn't read Part 1, Kyo Ya is a Japanese restaurant in the East Village serving several options for a la carte and a few different tasting menus to choose from. During our visit, we came for my dad's birthday and tried the 9 and 10 course tasting menus.
The restaurant is a bit hard to find. It's located below street-level with no apparent signs or logos. So, as we were walking down the steps, we felt pretty sketchy as we tried to peek through the oriental brown blinds. Eventually, we realized we had arrived at the right place. The restaurant is very well-designed and there's a long, beautiful bar area that I am a huge fan of. I will definitely want to come back soon to try their a la carte and sit at the bar.
IMPORTANT: To enjoy the Kaiseki menu, you need to call and reserve in advance.
Address: 94 E 7th St. New York, NY 10009
Tasting Menu - Summer 2016...
Aperitif: Akane

"Zatsuki" First Course: Anago Sea Eel and Gobo Spring Roll

"Sakizuke" Second Course: Chilled Tamaji-Mushi, Shrimp, Uni, Lima Bean, and Gin-an

"Oshinogi" Third Course: Braised Asari Little Neck Clam Sushi

"Owan" Fourth Course: Onion Potage with Crab Mousse and Cabbage

"Otsukuri" Fifth Course: Fresh Oyster and Sashimi of the Day

- Fresh North Bay Oysters with Onion, Ponzu Sauce, and Goji Berry

"Yakimono" Sixth Course: Iwana Arctic Char Gobo Miso Yaki with Fiddle Head and Black Sesame

"Nimono" Seventh Course: Potato Cream Pie and Braised Duck Grilled Leek in Duck Broth

"Tomezakana" Eighth Course: Junsai Fresh Water Shield, Okura, and Nectarine with Chia Seed Vinegar

"Oshokuji" Ninth Course: Sakura Shrimp and Peter Corn Kamadaki Rice with Red Miso Soup and Pickles

Dessert: Shiro An Wrapped with Lemon Mochi in Melon Soup

Dessert: Strawberry Ice Cream with Caramelized Corn Flake

Sake: Watari Bune Junmai Ginjo 55
Anyways, we can get started where we left off. The 6th course was an Iwana, or Arctic Char. It's a fish that is similar to salmon with a few distinct features. First and foremost, it looks like a badass. Have you ever seen one before? Just google pictures of it.
Most of its body is a dark green/brown but it has a bright red/orange belly. It's pretty cool. Anyway, it tastes amazing. It looks like Salmon but it's less dense and chewy so it basically melts and breaks apart in your mouth. It's also more mild and creamy in flavor.
Kyo Ya topped the fish with a Gobo Miso Yaki, which is a Burdock Miso Paste. The other time I've had a sauce like this was the addicting garlic miso paste that came with my pork belly at Torishin. That sauce absolutely just saved the day. And, this one was no different. I like this sauce because it's salty, savory, and totally umami. It was also paired with some fiddlehead, which is a grassy vegetable that tastes like a mix between an asparagus and spinach. I swear to you that this will be the new food trend after kohlrabi and kale. Also, it actually looks like the head of a fiddle in case any of you were wondering. Pretty cool vegetable.
Next, the 7th course was a Potato Cream Pie with Braised Duck and Grilled Leek in a Duck Broth. Again, another dish that I want to have every time I'm sick or when it's cold outside. This felt so good in my stomach. The broth was so thick and flavorful I almost passed out. The potato "cream pie" basically exploded with sweet and savory fluffiness. I tried so hard to control myself to eat slow and enjoy this dish but it was gone before I mustered enough courage to pace myself.
The 8th course was a Junsai Fresh Water Shield with Okura (okra) and Nectarine. Nothing too crazy here but it was refreshing. It was like a cold shower for my mouth. It reminded me of a Japanese gazpacho but more silky in texture.
The 9th course was interesting. It was a Sakura Shrimp and Peter Corn Kamadaki Rice. It came in a large clay pot and it really helped wrap up our meal. The rice was super hearty and came in a huge clay pot. If you look closely, you will see that the bed of rice was topped with a layer of baby Sakura Shrimp. Despite there being about 987,324 tiny shrimps, the flavor was still very gentle and mild.
Lastly, the dinner ended with a Strawberry Ice Cream with a Caramelized Corn Flake (above) and a Shiro An (Sweet White Bean Paste) Wrapped with Lemon Mochi in a Melon Soup (below). After the meal, we needed to walk home to digest all the good food we ate. When we got home, we all simultaneously fell asleep. The end.