Gontran Cherrier: Bread of the Future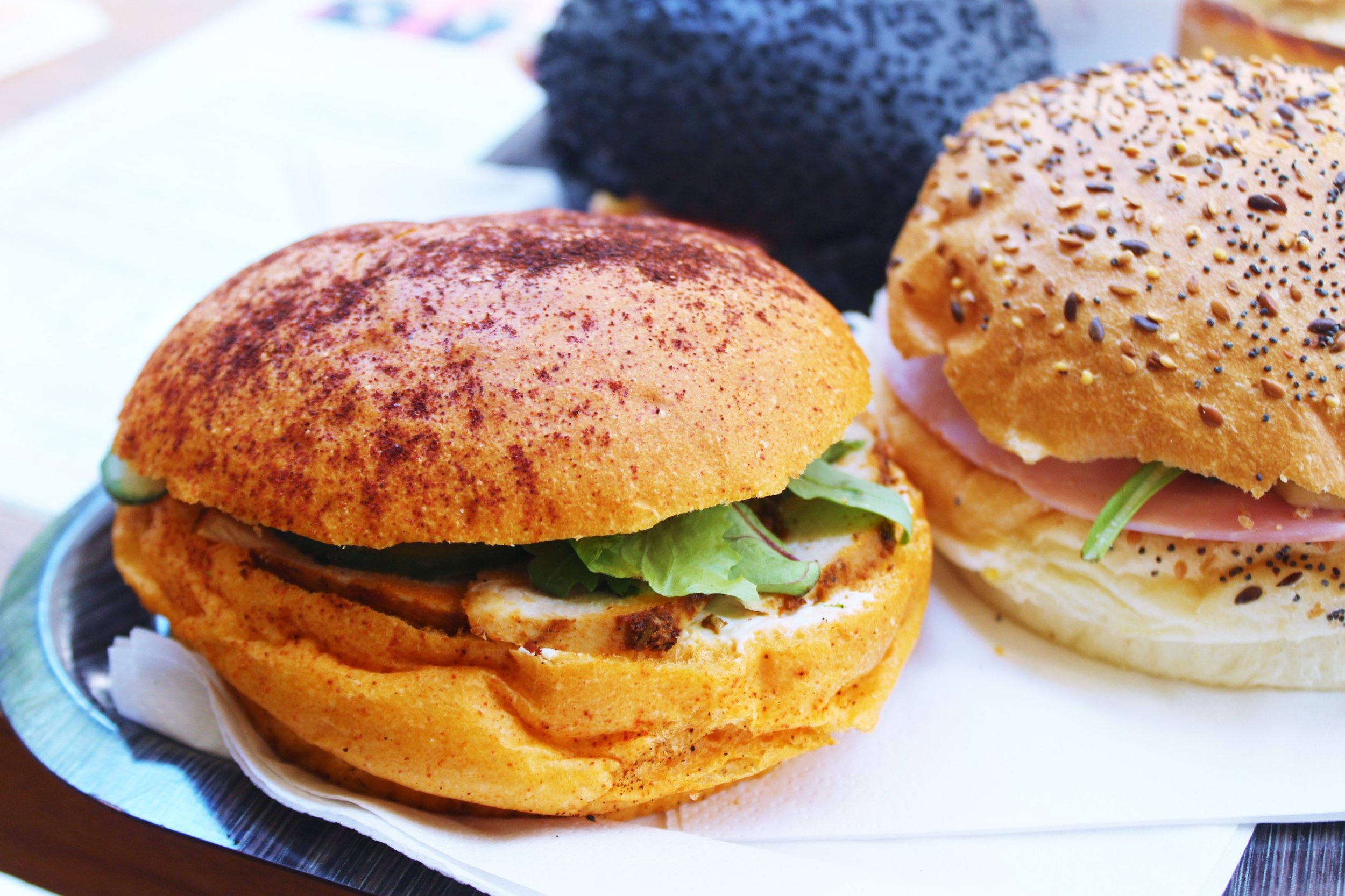 Hi there. Just a quick warning: this post will be fairly short and probably more entertaining than educational. But, today, I just wanted to write a post about my favorite bakery in Paris. It's called Gontran Cherrier. Do you love bread? I'm not talking about the "yeah-I-like-to-eat-it"-type. I'm talking about the kind where you would be okay using a loaf as a pillow in the hopes that, overnight, you may experience osmosis, in which case, you would become part bread, part human. You can also consider yourself a bread devotee if you're like this girl who loves to smash her face into bread. I truly respect her choice of pastime. Well, if you truly love bread, you should definitely visit Gontran Cherrier if you're in Paris. Actually, even if you aren't a bread fanatic, you should still go.
Their bakery is about a 10 minute walk away from Sacré Coeur. When we went, the plan was to buy the bread and then head up to Sacré Coeur so that we could enjoy our breakfast with a view of Paris from the top of the hill of Montmartre, which also happens to be the highest point of the city.
FUN FACT: Montmartre is a really cool area with a lot of shops, restaurants, and street markets. In the early 1900s, it was home to many famous artists including Dalí, Claude Monet, Picasso, and van Gogh. So, if you're looking to take home some sick art that you can show off to your bros, check out this area in Paris.
In the end, we didn't even stick to our proposed strategy. We were so ravenous after seeing their selection that we just decided to eat at the bakery. The service was amazing... especially since they were so patient to help me even as I fell in line three different times to get more food.
Gontran Cherrier is known for its odd but creative flavors. In addition to the traditional baguettes, they serve bread made with red miso, which is super badass. They've also got some squid ink buns if you're interested. What I really appreciated was that the flavors were more subtle and, at the end of the day, the star of the show was the quality of the bread/pastry rather than the flavors that enriched the bread. It was a big comparison to all the rich, buttery, fatty stuff we had been eating all week.
My first order was a Tandoori Chicken Sandwich with Paprika Bread. It was gorgeous. The brightly powdered bread was so fluffy that I just wanted to use it to build a little Paprika Bread bed and nap for a while.
I also got a Melon bread that was apparently made with lemon instead of melon. What a puzzle!
For the last "dish" of my three-course breakfast, I got a Salted Caramel Kouign Amann (pronounced "QUEEN-AMAHN"). This was probably the best Kouign Amann that I've ever tasted. It kind of reminds me of a luscious, caramelized croissant with cascading sheets of buttery goodness. You need this in your life.
TIPS: This location receives a lot of traffic so if you're looking to get a warm, fresh batch of baguette, you should wait for them to refill the baguette basket. There also isn't very much seating so plan accordingly.