Ellsworth: Inducing Infatuation with New American Vibes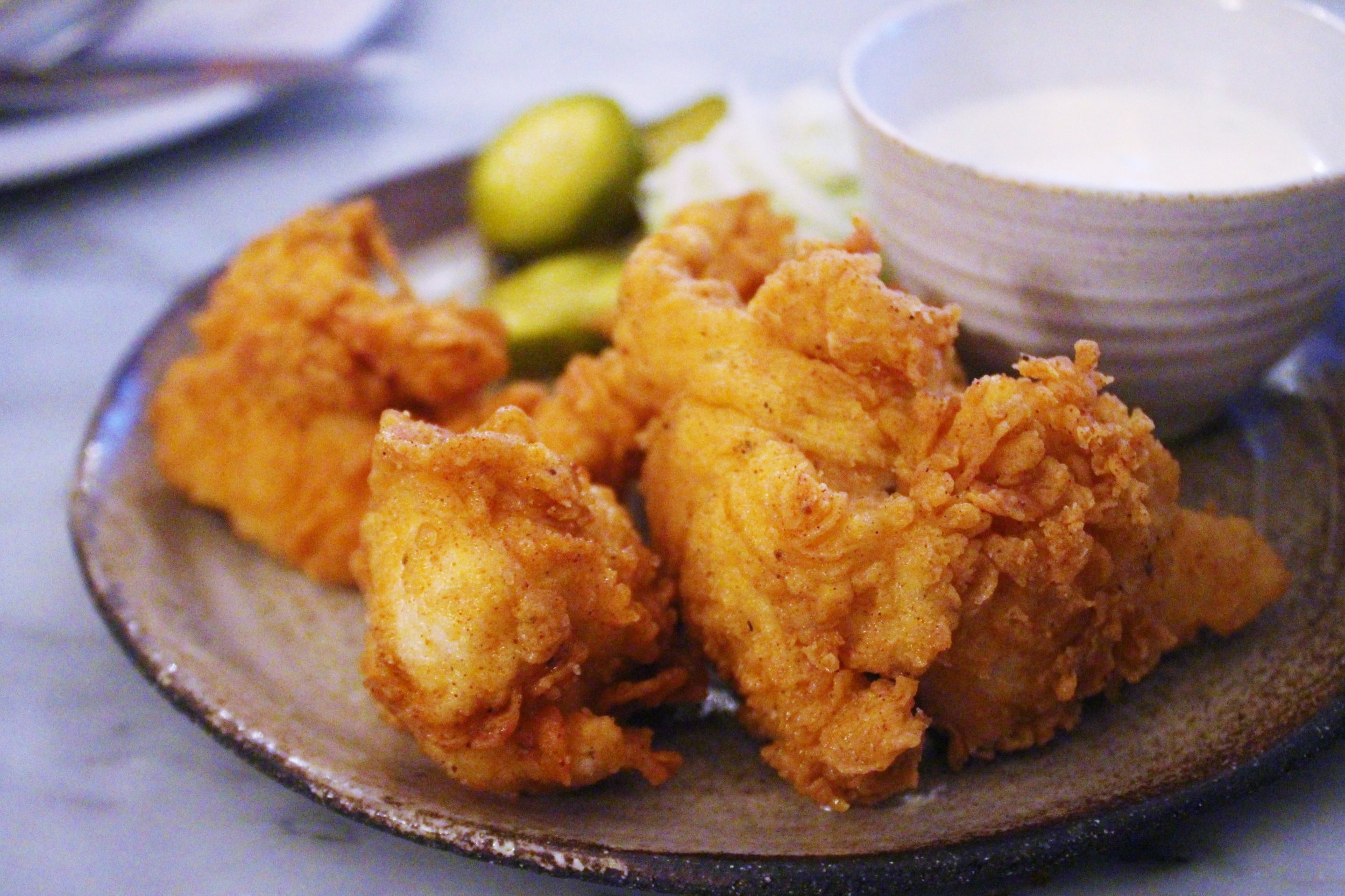 Hello! Here's another review for one of our food adventures during our Paris trip in July 2016. Today, we're going to talk about Ellsworth, a very hip and Brooklyn-esque hangout with a sophisticated vibe. The decor is simple with sleek marble tables and wooden chairs. It's a small place that only fits like 20 people in the main dining area. Also, this seems to be a local spot so you likely won't see any tourists here. That being said, this is the perfect place to go if you're a hipster and love to eat good food! Just kidding. You don't need to be a hipster to go here. As long as you love good food, this is the place to be.
Alright, so the menu is structured with small plates to share. There were some dishes that were amazing and some dishes that were just average. Overall, I enjoyed the meal a lot and I'd go back. Since we had five people in our party, we actually just ordered the whole menu, which consisted of 10 "tapas" and 3 desserts, with a few extras of our favorite ones. This is the place to go when you don't really know what you feel like eating but would be open to trying a bunch of interesting, innovative dishes.
Anyway, this post is long enough so I will leave you with one last fact. Ellsworth is owned and managed by American chefs. Hope you're able to check this place out. Thanks for reading!
Address: 34 Rue De Richelieu, Palais Royal/Musée du Louvre, 1er
Recommended:
Salad of Cherry Tomatoes, Cucumbers, Fried Sourdough, and Red Onion

Caramelized Young Fennel, Anchovy Butter, Herbed Breadcrumbs

Dorade, Baby Cucumbers, Citrus, Pickled Cherries, Herbs

Clams, Courgette, Pickled Shiitake, Piment D'Espelette

Mushroom and Fresh Goat Cheese Tortellini, Mushroom Broth, Arroche

New Potatoes, Smoked Creme Fraiche, Charred Leeks

Fried Chicken, Cucumber Pickles, Cabbage, Buttermilk

Burrata, Pickled Cherries, Hazelnuts, Herbs

Pochetta from Clavisy Farm, Pea Vines, Pickled Mustard Seeds

Citrus-Cured Trout, Spring Onion Broth, Red Fava Beans

Almond Cake, Cherries, Mascarpone, Fresh Almonds

Peaches, Polenta, Lemon Thyme Ice Cream

Malt Ice Cream, Chocolate Sorbet, Espresso Espuma, Milk Crumb
For this post, I'll only talk about the plates that blew us away. So, apparently, Ellsworth's specialty is their Fried Chicken. We did not know this but they told us when we asked for a second order of the Fried Chicken. It came with Pickles, Cabbage, and some sort of Buttermilk sauce. Buttermilk is kind of like a Ranch dressing but more pure. I say that because Ranch is actually made with buttermilk and other ingredients like salt, garlic, onion, and other spices. Anyways, Buttermilk is made with the liquid left behind after churning butter. It's milky and a little sour. The chicken was fantastic. I'm not going to say it was the best fried chicken I've ever had but it's definitely up there. And, considering that we were in Paris, this chicken was phenomenal. It was hauntingly juicy and it had the exact amount of fried skin that I was expecting.
We also got two orders of the Salad of Cherry Tomatoes. This one was super simple but I loved it. I used to hate tomatoes with a passion but these days I find myself with a constant craving for tomatoes. I don't discriminate. I like tomatoes of all shapes, sizes, and colors. I have a theory that adulthood is to blame.
After all these years of eating unhealthy, this is my body telling me that I should have a fruit once in a while. I accept this change because tomatoes are dank, especially when they're fresh. Anyway, this "salad" was delightful. It came with some Cucumbers, Red Onion, and some bits of fried sourdough. Embarrassingly, we thought the Fried Sourdough was little fried bits of chicken. But, we were wrong. Regardless, this was the ideal dish for refreshing ourselves after walking around all day in the Parisian summer heat.
The last one I want to talk about is the Clams. It was served chilled with some Courgette (Zucchini), Pickled Shiitake, and Piment D'Espelette. If you like seafood, this dish is enchanting. It's a small serving but it's packed with flavor.
FUN FACT: Clams are amazingly good for you. They're high in protein and low in fat. Actually, they have less calories, less fat, and just about as much protein as chicken breast. How exciting! Lastly, the Piment D'Espelette was an intriguing condiment. It's light and not spicy at all despite being a powdered pepper.
Complaints: The Porchetta was not that great. It came lukewarm and the skin was so tough that I thought I was going to break my teeth. It felt like we were eating 3 day old porchetta. You couldn't even use a knife to cut through the skin. I'm sure the taste would have been much better if the porchetta were fresh.