Pirouette: Achieving Gastronomical Enlightenment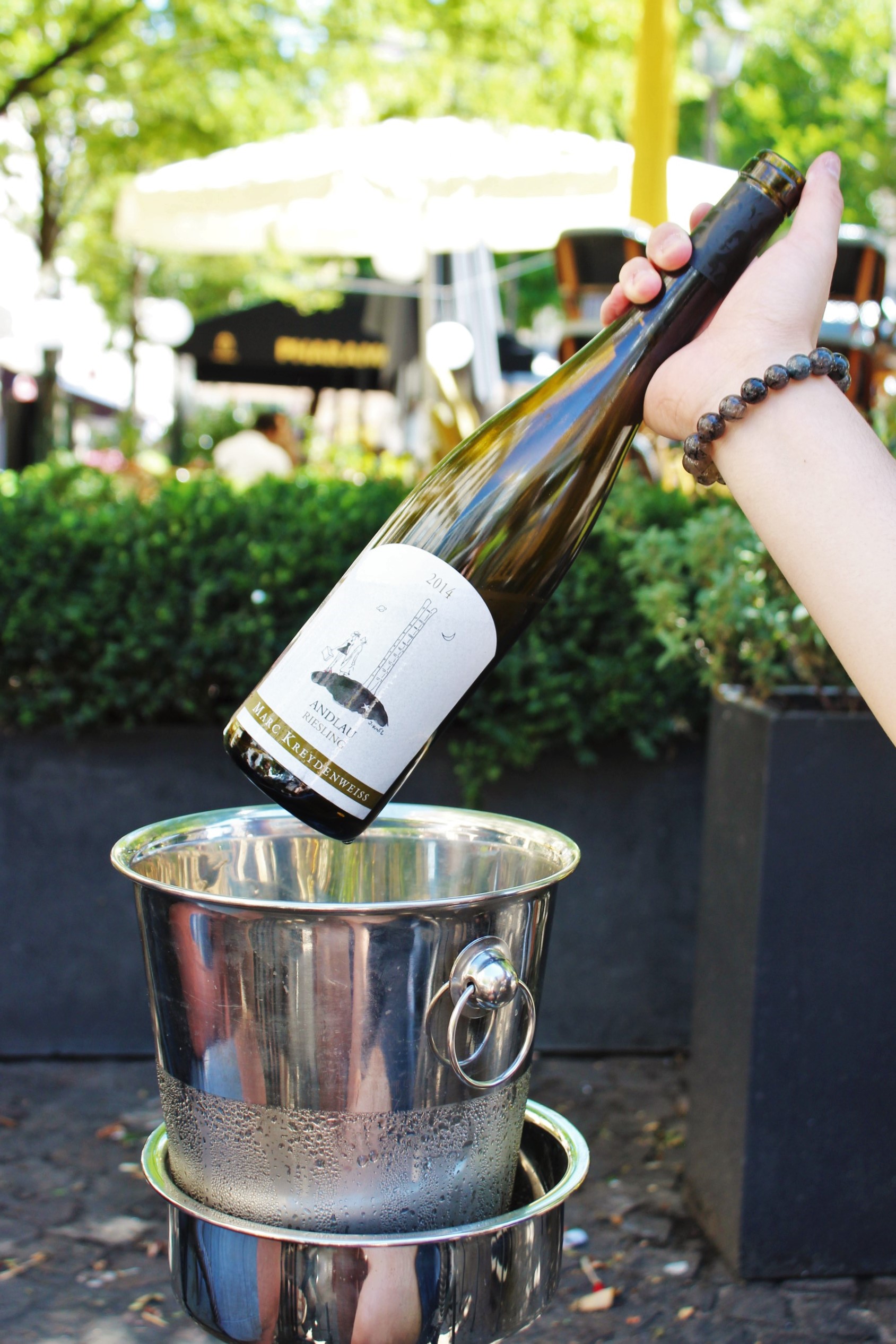 Hello! This is going to be the last review for the Paris trip and I'm super excited to share my notes for this restaurant. During our restaurant search in preparation for our trip, I relied heavily on Paris By Mouth and I highly recommend going through this blog if you want to find restaurants in Paris. It's updated frequently and it's very easy to navigate through the site depending on the type of food (elaborate, casual, contemporary, bakery, etc.), price range, and neighborhood. Thanks to this website, I was able to find our favorite restaurant during this week-long trip.
Today's review will be on Pirouette, a casual eatery serving modern French cuisine, in Les Halles, Paris. It's owned by Chef Tomy Gousset, who formerly worked under Daniel Boulud. As you will soon see, the food is stunningly beautiful from being prepared with some serious technique.
For our visit, we decided to sit under the shade to enjoy the perfect Parisian weather. Upon being seated, we knew we had chosen the right restaurant. Pirouette is facing a small plaza filled with trees and scattered flowers. The perimeter is lined by a beautiful facade of Beaux-Arts styled residential architecture.
Address: 5 Rue Mondétour, 75001 Paris
Recommended:
Breaded White Asparagus, Gribiche

Beef Tongue Tartlet, Turnips, Pickles, Mustard Seeds

Girolles Mushrooms, Grapefruit Tomato, Ricotta, Fried Verbena

Half Crispy Lobster, Curry, Plums, Pickles, Avocado

"Pornic" Pigeon & his "Rotie", Zucchini, Onions, and Pesto

Shade Fish with Leaks, Seaweed, Hulls, and Galanga

Pig with Green Peas, Mint, and Red Onions

Lemon Espuma with Mango Ice Cream

Lychee and Vanilla Ice Cream with Tapioca

Wine: Andlau Riesling 2014, Marc Kreydenweiss
To start, Alex chose a very delightful 2014 Riesling. Given our appetites, we decided to try a bunch of different appetizers to share. First was a Breaded White Asparagus with Gribiche (see first picture above).
FUN FACT: White asparagus is made by depriving the vegetable from light. A plant's chlorophyll cannot create its green color without light. What does this do to the taste of the asparagus? The white asparagus is more firm and milder in taste than its green brethren. How scientific!
The Gribiche is a fun French sauce. It's a cold mayo-like sauce that's made with hard-boiled egg yolk, mustard, and oil then topped with some chopped cucumbers, capers, parsley, and/or tarragon. You can kind of see it in the picture. It's hiding under some attractive parsley. Anyways, it was beautifully light and creamy. It's THE sauce to pair with asparagus.
To share, we also got the Girolles Mushrooms (Chanterelles). These are some of the BEST mushrooms in terms of culinary potential. You can do so much with these mushrooms. In many cases, like this dish, they can even be the star of the show. Girolles are golden in color and tender in texture. After cooking, girolles exude a rich, smokey aroma that will command attention from even the most unshakable haters. Be strong, dear girolles! The taste is peppery, nutty, and a little bit fruity. Pirouette paired the girolles with some Grapefruit Tomato, Ricotta, and Fried Verbena.
Damn, that fried verbena was enchanting. After all the mushrooms and tomato had been devoured, I just sat there quietly trying to figure out what mystical, fried leaf I was eating. It had that great herbaceous, tea-like flavor with a hint of lemon.
Lastly, I'm just going to talk briefly about my main course and Steph's main course. There isn't too much to talk about because I know you know this place is the best. My dish was Pork with Green Peas, Mint, and Red Onions. It sounds simple but it was actually a hot, juicy mess of delectation. Each bite was full of ridiculous fatty flavor that was balanced with the taste of some healthy veggies.
For Steph's dish, she got the Half Crispy Lobster with Plums, Pickles, and Avocado. The special factor in this dish is the curry sauce. It was magical. You know that split second feeling when you're enjoying some katsu (deep-fried breaded chicken/pork) with a side of curry sauce? I'm talking about that glorious sensation when you taste the warm, savory curry as it envelopes the breaded exterior while the katsu is still crispy. This dish had that feeling. But, instead of the pork/chicken... my taste buds were greeted with the sweet, seafood taste of the lobster. What a great meal!