Flip Sigi: A Taste of the Philippines Through Mexico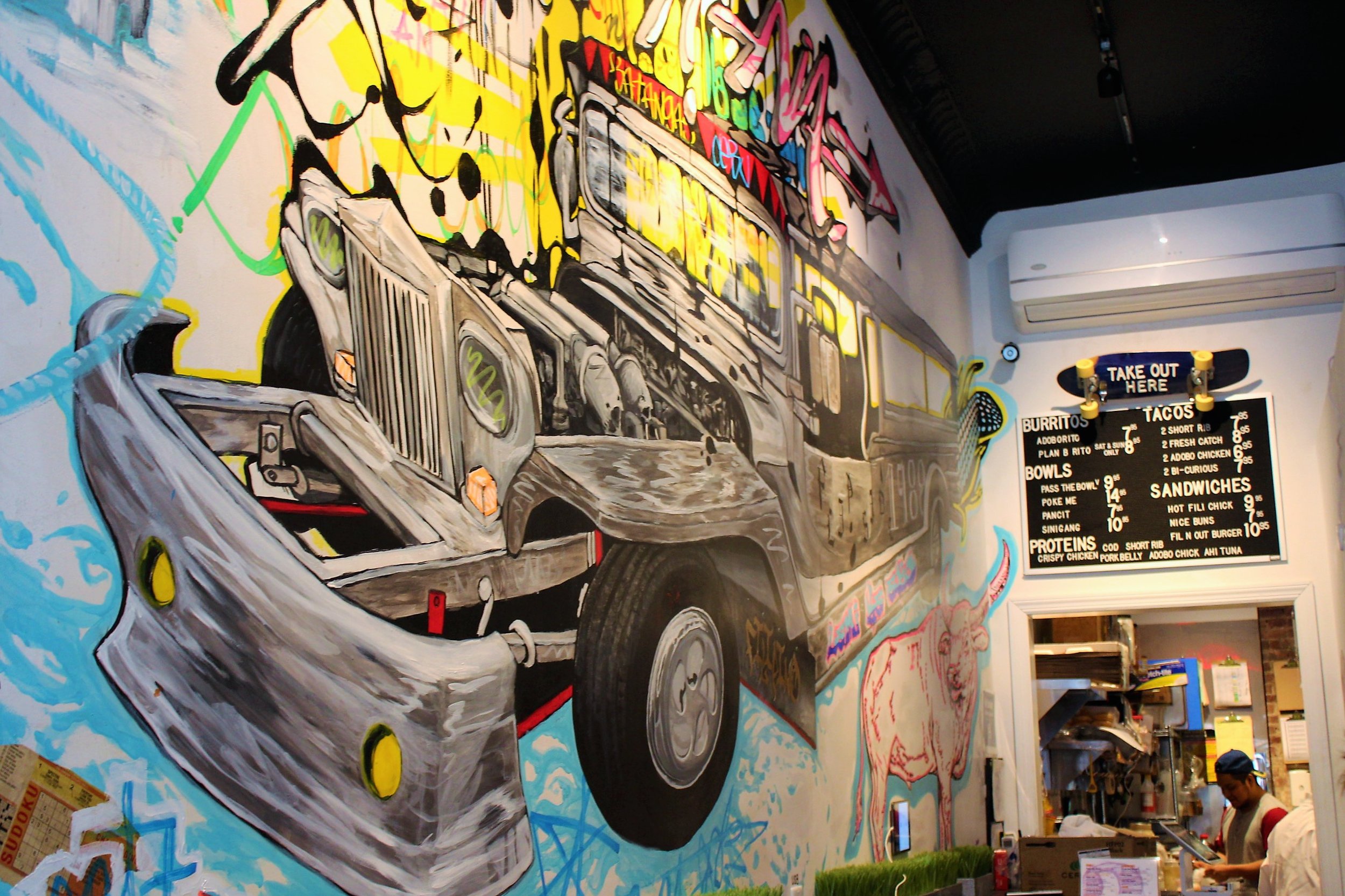 Hi Everyone! Today, we're going to talk about Flip Sigi in New York City. It took me a little while to get here because I was waiting for Steph to be available. She loves Filipino and Mexican food so I knew I would be in deep trouble if I didn't take her. When we were finally able to go, I'm glad we had our cameras and appetites ready for this meal.
Flip Sigi is owned by Jean Georges and French Laundry veteran, Jordan Andino. This "Filipino Taqueria" serves tacos, rice bowls, burgers, and burritos with both Filipino and Mexican influences. It's a small restaurant and they accept walk-ins only. If you're going with friends, you can try to make a reservation for the only table in the restaurant. This table only seats 4 people.
Scroll down below to read more about what Steph and I ate during this visit!
I heard from a very trustworthy source that I need to try the Flip-N-Out Burger. When I saw the menu, it looks like a very standard In-N-Out-style burger with one key difference: The Secret Filipino Style Banana Pepper Ketchup. I need to come back soon for this burger!
I'll try the Adobo Chicken Tacos next time too! I also heard a rumor that there are some special versions of each dish but you need to know the secret name of the menu item. Chef Jordan, if you're reading this, share a few with me so I can be cool and trendy too!
Before we get to our main dishes, Steph and I got some tacos to share. Each taco is seasoned with Tamarind Slurry, Bird's Eye Chili Salsa, Chicharrones, and Bok Choy then wrapped in a Corn Tortilla. We tried the Slow Braised Short Rib taco (see above on the right), which revived my slightly hungover and half-asleep soul. We also tried the Butter Poached Fresh Catch Fish Tacos (see above on the left). These were just alright.
I got the Sinigang Bowl (see above). Absurdly photogenic, this bowl reminded me a bit of home. Sinigang is a traditional Filipino stew characterized by a uniquely sour yet savory taste. The soup is made with Tamarind then decorated with meats (pork, chicken, beef, and/or prawns) and vegetables (radish, green chilies, tomatoes, string beans, and/or kangkong [water spinach]). It's delicious!
Flip Sigi's Sinigang Bowl was a dry version of the traditional Filipino Sinigang. It came with Short Rib, Tomatoes, Carrots, and Bok Choy over Garlic Rice. I liked mixing the whole bowl up so I could have some of each ingredient in each bite. Alternatively, you can avoid mixing up the bowl to curate the exact combination of ingredients you want in each bite. Overall the Sinigang bowl was good but I think the Garlic Rice could've been better. The garlic flavor was also too subtle for my preference.
Steph got the Adobo-Rito (see above). It's basically a burrito with Chicken Adobo inside. It sounds boring but it's not. Adobo is the national food of the Philippines. Everyone grows up eating it. Chicken Adobo is usually chicken braised in garlic, soy sauce, pepper, and vinegar. There are other variations but that's basically the gist of the recipe.
Flip Sigi's Adobo-Rito comes with Kimchi Fried Rice and Shredded Romaine. It was nice and filling. The Adobo-Rito went well with all the house sauces. As far as I could tell, the sauces were not named/labeled in the restaurant so I would ask the waiter to describe the sauces if you are unsure.
The 1st Base Salsa was made with Roasted Tomato and Jalapeno. The 2nd Base Salsa was made with Serrano Chili, Onion, Garlic, and Vinegar. The 3rd Base Salsa was made with Pickled Bird's Eye Chili. The Home Run Salsa is the chef's secret Habanero salsa.
I think Steph and I both liked the 2nd Base Salsa the best!