Igueldo: Midnight in L'Eixample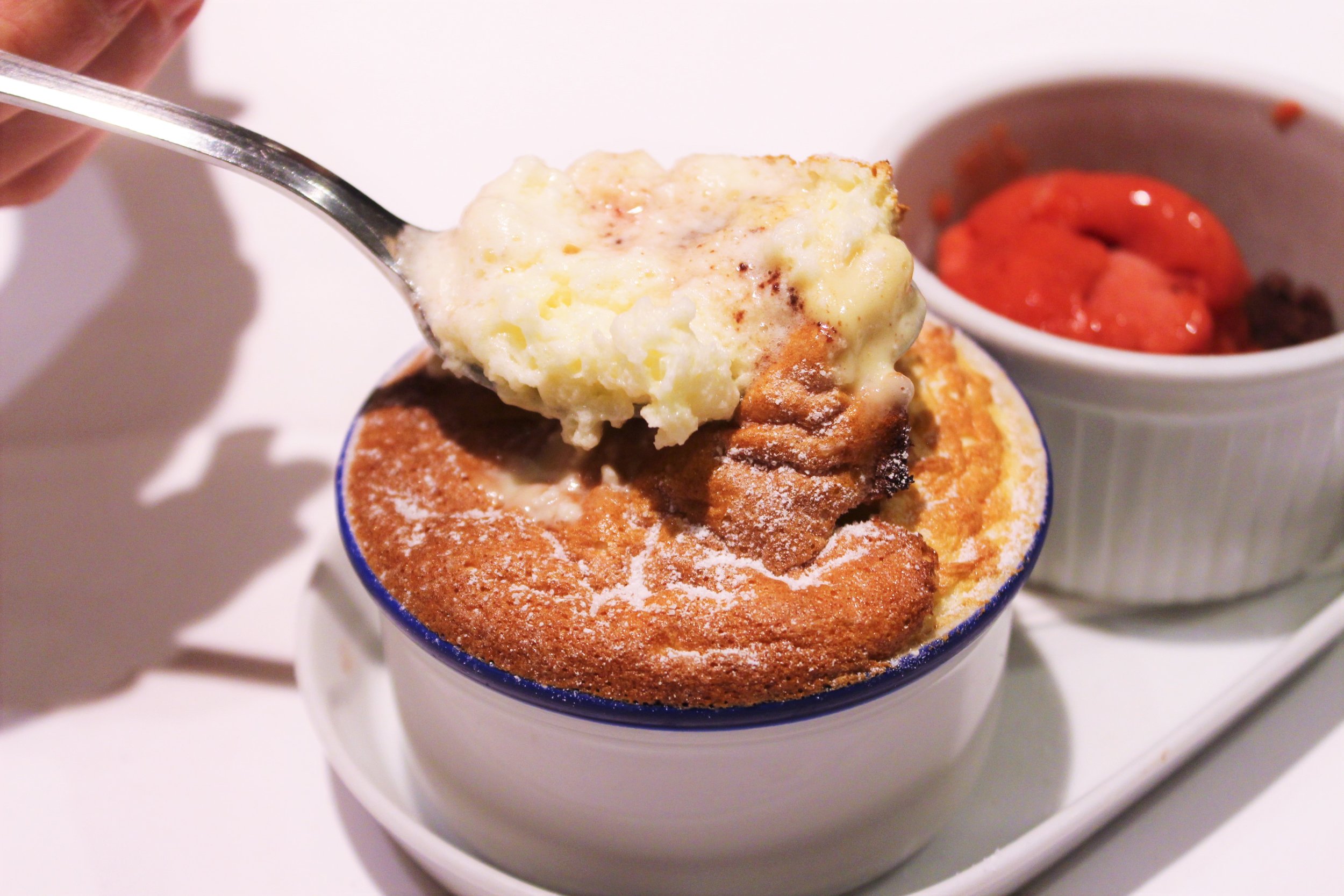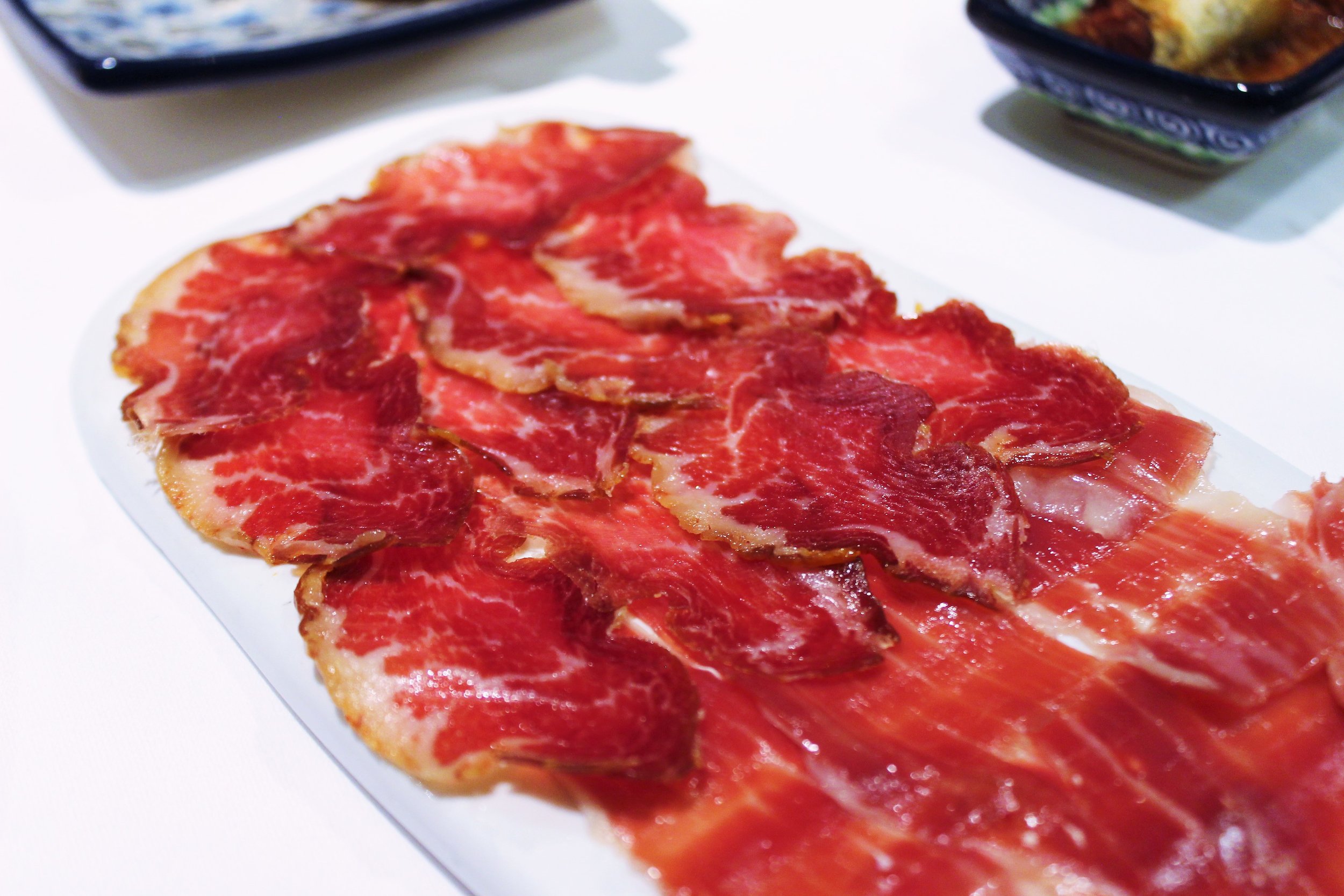 The district of L'Eixample (pronounced "aye-SHAM-ple") is a beautifully organized district at the center of Barcelona, characterized by its wide, proportional streets and precise grid pattern. Its perimeter is lined by some of the city's most important landmarks including Avinguda Diagonal, Parc de Joan Miró, Sagrada Família, Plaça de Catalunya, Arc de Triomf, and La Pedrera.
Given that L'Eixample is one of Barcelona's most affluent neighborhoods, you're bound to find some great fine dining options, like Igueldo. Other upscale establishments include Disfrutar and Restaurante Lasarte. Igueldo's owners, Gonzalo Galbete (chef) and Ana López (sommelier), successfully pair traditional Basque flavors and great wine in an elegant setting.
Steph and I arrived at Igueldo at opening time (8:30pm) but the restaurant wasn't busy until 9:30pm. Igueldo has a spacious dining area with hardwood floors, white walls and tablecloths, and a pleasantly welcoming atmosphere. Their patrons are dressy, cool, and lack pretentiousness.
In terms of food, Igueldo is outstanding. Plates are medium-sized and are ideal for sharing. Some items on the menu can be ordered as a half portion, which is a great option if you want more variety. The quality of ingredients is well represented through Galbete's dependable execution. Igueldo's wine menu is extensive and varying.
Igueldo is praised for its barbecue and grilled dishes. Try some of their grilled seafood/meats like Grilled Hake with Clams, Beef Sirloin with Foie and Port Wine Sauce, or Slow Cooked Lamb Shoulder. Don't forget the vegetables though! Steph and I had the BEST white asparagus in our life here. I recommend that you finish up your meal with a Cream Cheese Soufflé or the rest of your Cava.
Without hesitation, I'd say Igueldo is one of the best places to spend an evening in Barcelona. This is a must visit!
Cuisine: Spanish, Mediterranean, Basque
Average Price per Person: $60 USD
Address: C/ Rosello, 186, 08008 Barcelona, Spain
Recommended: Grilled White Asparagus, Wild Mushrooms, Iberian Ham, Cream Cheese Souffle
Overall Rating: 4.5

Taste: 4.5

Authenticity/Creativity: 4

Service: 4.5

Atmosphere: 4.5

Value: 4
The meal started with a small bowl of fresh olives. They were juicy and salty in flavor. I was slightly addicted. [Complimentary]
The other hors d'oeuvre was a Chistorra sausage with Honey and Wholegrain Mustard Sauce. Chistorra is a type of Basque sausage made with minced pork/beef. It's flavored with garlic and paprika. The sausage was enough to tempt us into overordering. [Complimentary]
Steph and I shared some Cava. This was her first cava ever! Unfortunately, we forgot to take note of the brand but it was great! Cava is a Spanish sparkling wine, made the same way as Champage but with different grapes. It's usually made with Macabeu, Xarel-lo, or Paralleda grapes. It's also acidic, floral, and less sweet than Prosecco.
When in Spain, order Ibérico de Bellota. NOTE: Ibérico de Bellota is different than just regular Ibérico.
This ham is made from free-range pigs that are allowed to roam the woods collecting their own food, consisting primarily of acorns. This acorn diet and the added exercise contribute to the beautifully marbled meat and intense flavor. Usually, these hams are cured for about 3 years. Jamón ibérico de bellota can cost up to $100 per pound, which is almost double the price of normal ibérico ham (usually priced at $52 per pound).
Igueldo's Ibérico de Bellota came with two plates of Ham and Loin. The Ham (above) was cut thinly. The fat was smooth and creamy. [25.3 Euros]
Igueldo's Ibérico de Bellota Loin (above) was also quite good. It was more lean and had less streaks of pure fat. The meat was more noticeably nutty and sweet. [25.3 Euros]
FUN FACT: Ibérico de Bellota is full of healthy mono-saturated fats, which are high in oleic acid. This causes Jamón ibérico de bellota to be high in HDL (i.e. good cholesterol) and is helpful in preventing heart disease.
The Ajoarriero Cod with Poached Egg was good. The fish was nice and soaked up flavors of garlic, tomatoes, and peppers. [17.6 Euros]
We also got the Grilled Artichokes, Foie Gras, and Iberian Ham dish. On paper, it sounds delicious but when it arrived, it was a bit too much. The Iberian Ham was a bit overkill even though it was still good.
The artichokes were firm and juicy. I liked the foie gras. It was seared and burst with fatty opulence. [17.6 Euros]
The Wild Mushrooms were fantastic. They were lightly seasoned and underneath all that mushroom goodness was a nicely poached egg. The mushrooms were firm and full of flavor. I can't remember what type of mushrooms they were but they look like Shimeji mushrooms.
OH MAN. The White Asparagus was our favorite. It came with Truffled Mayonnaise and
Idiazábal Cheese. White Asparagus is white because it grows without sunlight, which prevents it from performing photosynthesis. As a result, the flavor is less grassy and vegetal. The asparagus was lightly grilled so it had a slight char but it still maintained its juicy composure.
The Idiazábal Cheese is a Basque sheep's milk cheese. It's rich, buttery, and slightly sharp. This shaved cheese paired with the truffled mayonnaise and the juicy white asparagus will change the way you taste vegetables.
Our waitress was a bit surprised that we ordered a second serving. After we told her it was the best white asparagus we've ever had, the second plate had an extra piece of asparagus. GOD. BLESS.
Steph was allured by the Cream Cheese Souffle with Raspberry Ice Cream. Our waitress recommended this dessert and now I am forever in her debt.
The souffle was fluffy and soft. Honestly, it was one of the better souffles I've ever had. The cream cheese was not overly sweet. It was creamy and a bit tangy. The raspberry ice cream was the perfect accoutrement. [6.6 Euros]
Igueldo's Lemon Sorbet was my preferred dessert to end the meal. It's light and refreshing. The acidity helps cut through all the fatty and rich flavors we ingested throughout the meal. [6.6 Euros]