Au Cheval: Burgers as a Lifestyle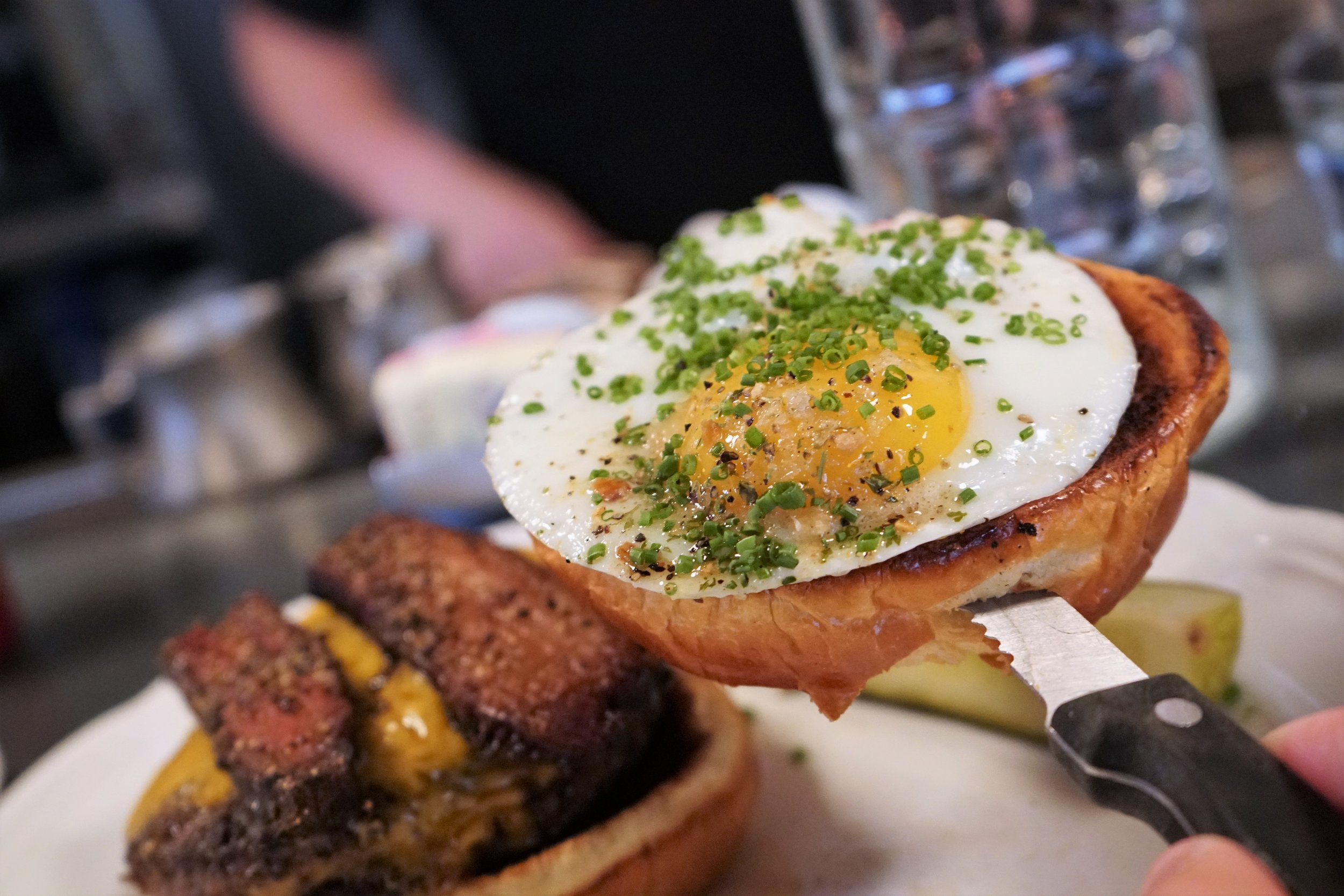 My favorite part of Chicago is in the city's West Loop. Here, you'll find a 5x5 block area that contains some of the best restaurants in the city. Specifically, Girl & The Goat, Avec, The Aviary, and The Publican. Au Cheval is also in the vicinity. This upscale American diner specializes in burgers. Really good burgers.
If you come during the peak meal times, be prepared to wait. You can actually leave your name at the door and go somewhere else for drinks while you wait. That's what Steph and I did.
I recommend sitting at the bar so you could see all the work being done in the kitchen. The workflow they've got is seriously impressive. From the burger assembly to the final touches, their crew can do this in their sleep.
So, everyone pretty much just gets the burgers here. Burgers and beer. The go-to order is a burger with everything on it (cheese, bacon, a fried egg). This hottie will set you back $15.95 but it's going to be the best $15.95 you've ever spent. The slabs of bacon are so tender and fatty. It really brought us to nirvana.
Are these the best burgers in Chicago? Probably. This needs to be on your list of spots to hit when you visit the windy city.
Here's the dining room at Au Cheval! As you can see, there aren't many seats so the wait can be long. Steph and I put our names down with the host then went to Bar Siena for some drinks.
When our table was ready, Steph and I sat at the bar.
Lots of beer available on tap! Go try one.
Since we sat at the bar, we got to watch everything going on in the kitchen! Each order of their famous Au Cheval burger was almost exactly the same. Every burger had the usual accoutrements: melted cheese, two thick slabs of bacon, and a beautifully round fried egg.
Steph and I followed suit. We got a Double Cheeseburger with Egg and Bacon. Man... not going to lie, we were pretty drunk after our appetizers and drinks at Bar Siena. This burger was exactly what we needed.
The bacon was perfect and the meat was firm, tasty, and tasty. Steph also really enjoyed that generous serving of pickle that accompanied the burger. [$15.95 USD]
On the side, Steph and I shared some fries just to help fill our bellies. [$6.25 USD]
To keep the fun going, we also got some White Rascal Beer. This was recommended by the bartender and it's a belgian-style white ale (5.6% ABV). It's smooth but a bit cloudy because it's unfiltered. That's not a bad thing though! Beer connoisseurs are starting to enjoy unfiltered beer because it can have more aroma and flavor. This White Rascal is zesty and refreshing. [$6 USD]