Avec: Intimate Mediterranean Flavors in a Midwestern Setting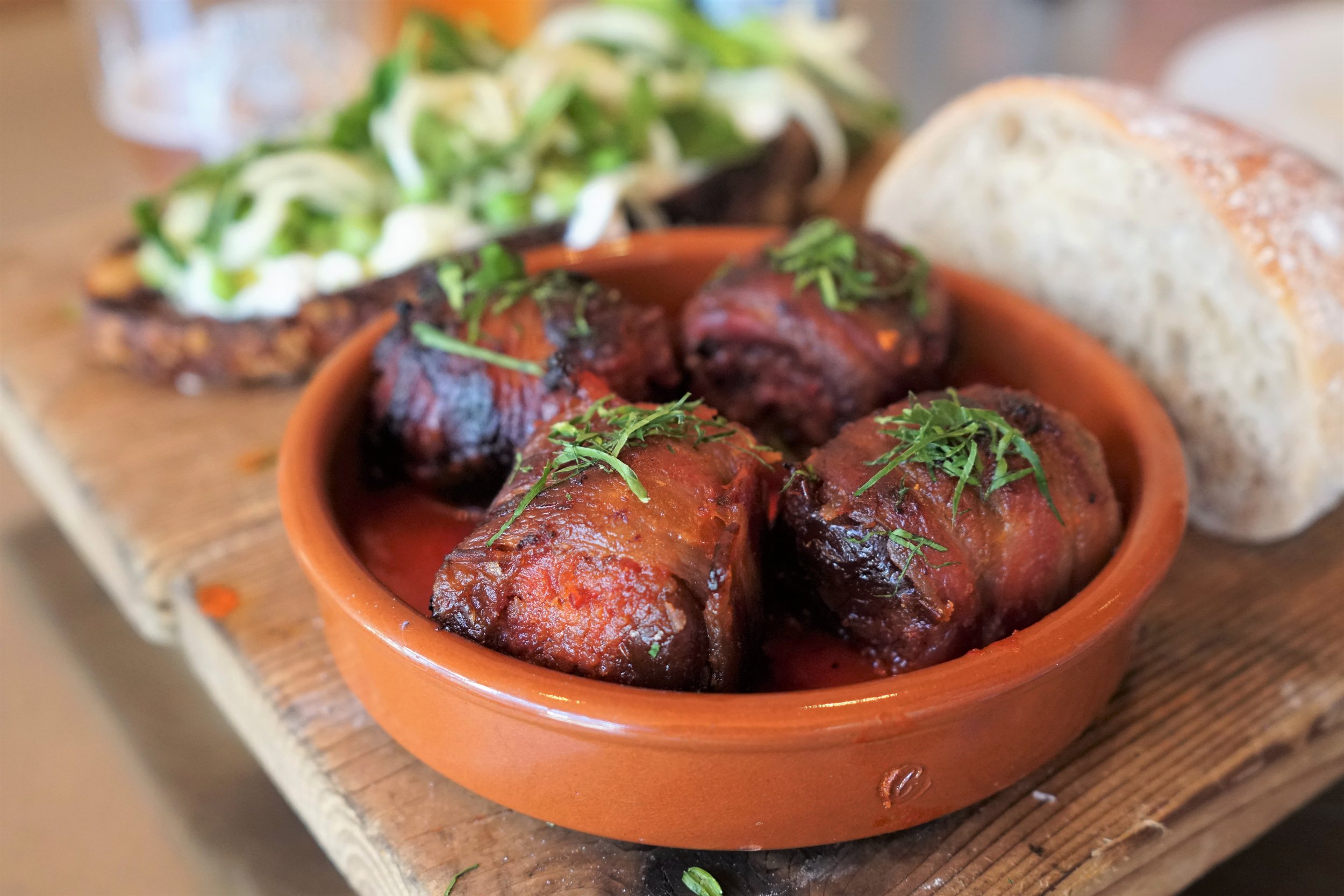 Since 2003, Avec has been serving small (but delicious) Mediterranean plates with a library of wines available by the bottle or glass. They must be doing something right! For a restaurant that has been around that long, it's impressive how progressive their menu has been.
We stopped by Avec because we were actually waiting for the 2nd part of our dinner at the Girl & The Goat. A part of me kind of wished we could have had a full meal here though. Anyway, we stopped by for two dishes and some drinks - a beautiful way to kill time.
Our selection included a Burrata Cheese Bruschetta and some Chorizo-Stuffed Medjool Dates. Read more below if you're curious about the food.
Our meal at Avec was brief but convincing. It didn't take long for us to realize that Avec has that rare quality that sets it apart from all other restaurants. Even at the start of the meal, when you're reading the menu, it's like poetry. It's like reading something you haven't read before. When you walk in the restaurant, it's like walking into a theater where the spotlight is on the food. And, Avec has that cool, collected feeling like they know they're doing really amazing work effortlessly.
All in all, I need to come back and try more of their food. I want to try their... EVERYTHING. I want some of their 8 cheese options and get the cheese accoutrements for the wild flower honey comb, quince paste, and the fruit compote. You can also gather a few friends and order 48 hours in advance for their whole roasted lamb shoulder served with fresh baked pitas, mezze, and sauce.
Cuisine: American, Mediterranean
Average Price per Person: $30 USD
Address: 615 W Randolph St, Chicago, IL 60661
Recommended: Cheese, Fish, Chorizo-Stuffed Dates, Bruschetta, Whole Roasted Lamb Shoulder (48 hours advance booking required)
Overall Rating: 4

Taste: 4

Authenticity/Creativity: 4

Service: 4

Atmosphere: 4

Value: 3.5
During our visit, we sat at the bar (as you can see on the left).
I've probably written it in another review but I'll say it again. Almost every time we see Burrata on the menu, we kind of have to order it, especially when I'm eating with Steph. During our visit, we saw that Avec has a Burrata Cheese Bruschetta. WHAT?!
We were intrigued. It was spread atop an Oat Porridge Bread with a Fresh Summer Pea Mojo Verde and Pickled Fennel. This left us speechless. It would be a dream if I could have one of these every morning forever. [$18 USD]
Second, I reordered something I had tried several years ago... at Avec. Their Chorizo-stuffed Medjool Dates will always be one of my favorite memories. These little flavor bombs are insane. The dates are wrapped in bacon because why not?
Underneath is a Piquillo Pepper-Tomato Sauce. It's a bit spicy. [$15 USD]
I got the Half Acre "Tuna" American Pale Ale. It's made in Chicago and stands at 4.5%. [$9 USD]
Steph enjoyed her Maeloc dry hard cider from Galicia, Spain. [$6 USD]